It has been a busy week – it began with the big Winter Sales in France (a national event here) ; a few days later we celebrated Pierre's birthday on 11th… went for a simple lunch at our favorite local Chinese restaurant, Jardin des Bambous. It serves authentic Chinese cuisine and I took the opportunity to give Pierre his surprise gift : Ratchet & Clank which he wasted no time in setting it up to play once he got home.😉 Can't blame him, this game is rather fun. Well, not as fun as Morrowind – then again, it's totally different game. Then we celebrated my birthday.🙂 This time around, my parents-in-law were in town and looked after Little One for us while we went out for a nice candle light dinner at a nice brasserie Danièle Bath. I had the most delicious cannette au miel and Pierre had some encornet sauté sauce chorizo (squid) that sends you to heaven once you have a spoonful of it. We are definitely heading back there again.🙂
Here's a recipe that I have put together myself. When I made this cake, I had the delicious Pear Belle-Hélène (Poire Belle Hélène) in mind – a classic dessert with chocolate ice cream and a half pear. It turned out nicely except I would make it slightly differently next time. I have made the necessary modifications below.
Chocolate Pear Cake
Ingredients
3 or 4 pears (peeled and halved)
2 eggs (separate yolk and whites)
200 g sugar
90 g apple sauce/compote
1½ tsp vanilla extract
2 tsp baking powder
40 – 50 g powdered cocoa (unsweetened)
90 ml or 9 cl fresh milk
113 g butter (softened)
105 g plain flour
a dash of nutmeg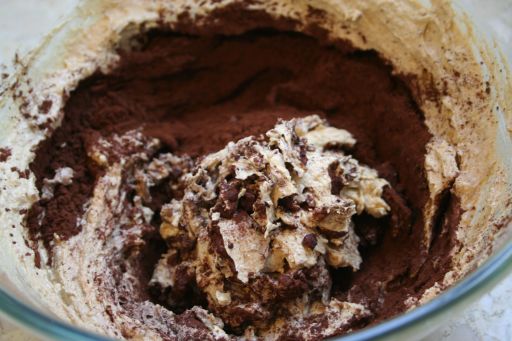 Directions
Butter a 9″ springform cake tin or lined it with baking paper.
Mix sugar and softened butter and whip until it is light and fluffy.
Add in egg yolks and mix till combined.
Add the vanilla extract.
Mix in the apple sauce/compote.
Stir in the cocoa slowly.
Stir in the flour, baking powder and nutmeg.
Mix in the milk.
Whip the egg white until stiff and then delicately fold the egg white into the batter.
Spoon the batter into the cake tin and smooth the top.
Peel, cut into half and take out the core. Place each half of the pear opposite the other on top of the batter. Do not press the pear into the batter.
Bake in the over at 175°C (350°F) for about 30 to 40 minutes. The toothpick should come out not completely clean. This makes the cake a little bit moist. If it is still too wet, bake it for another 10 to 15 minutes.
The Verdict
As expected, the pear and chocolate flavour go well together, fruity and strong at the same time. The pear makes the cake more moist than usual, so the texture sometimes reminds me of a brownie.
Notes
The above baking time is an estimation for a 9″ baking pan. My original recipe in a 8″ baking tin needed about 55 minutes to bake. And with a 9″ baking pan, the pear should show up (unlike mine which sank like the Titanic).