My search for good Indian cuisine recipe continues even though I don't blog a lot these days. I have made a few dishes like chicken/prawn vindaloo, chicken tikka and chicken tikka masala, etc. recipes that I have found from my cook books or on the net but sadly, none of it makes it to our list of 'Family favourites'. That is until I stumbled upon a video of an Indian lady showing us how to cook chicken korma – the dish that Pierre and Little One love. I checked her list of ingredients and it looked promisingly good. On top of that her instructions are also very clear.
From what I understand, korma is type of curry made up of yogurt, cream, or coconut milk and seed paste. It has both vegetarian and non-vegetarian version. This dish is a Mughlai cuisine of Northern India and Pakistan. And it is a very popular dish in Pakistani/Indian restaurants in Europe and even in Singapore.
This recipe is definitely a keeper and I truly encourages you to make this. Your guests will definitely rave about it and you won't regret it.
Sorry, there isn't any picture here as the photos that I took that night was really too ugly to be seen and posted here. I will take a good one when I make this again.
Chicken Korma
Ingredients
75 g raw cashew nuts (soak in 150 ml of hot/boiling water for 30 minutes)
a pinch of saffron threads (crush it with your fingers and soak it in 3 tbsp of hot milk for 20 minutes)
700 g chicken breast, cut into chunks or big cubes (remove skin and fats)
125 g plain yogurt (if you have Greek yogurt, it is best as it has less water in it.)
1 tbsp gram flour (chickpea flour)
2 tsp garlic paste
2 tsp ginger paste
150 ml single cream
some ghee or unsalted butter or vegetable oil
5 pcs green cardamon pod, bruised it with your fingers
5 cm cinnamon – break it into 2
4 pcs cloves
1 large onion (red or yellow), finely chopped
1 pc green chili (finely chopped), optional
2 tsp ground coriander
1/2 tsp chili powder
1/2 tsp garam masala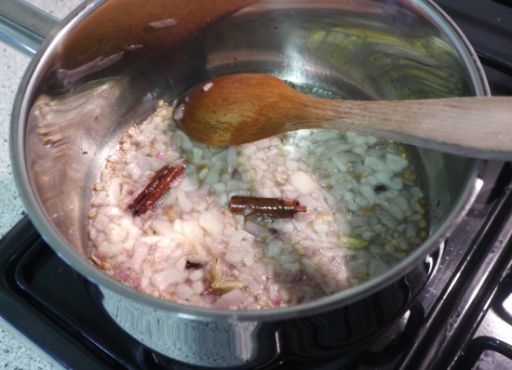 Directions
In a small bowl, mix yogurt (drained your plain yogurt in a muslin cloth to get rid of some water), gram flour, garlic and ginger paste together. In a zip-log bag, marinate the cubed chicken pieces with this mixture, making sure that every pieces is well coated. Leave it in the fridge for about 4 – 6 hours or overnight.
Blend your cashew nuts with the soaked water and single cream until it is a puree.
Heat up your wok or pot with some ghee or unsalted butter. I use vegetable oil.
When wok is hot, stir fry the chopped onions together in cloves, cardamon and cinnamon for about 5 – 6 minutes (this is to remove the moisture in the onions).
Stir in chilli powder and coriander powder until blend. Lower the fire.
Add in the marinated chicken pieces. Turn up the heat to medium high and cook until the chicken pieces are opaque.
Add salt and pour in 150 ml of warm water to cook the chicken. (Do not use cold water as it will impair the flavour and taste of dish.) Cover it and let it cook for about 15 minutes.
Stir in the creamy cashew nut puree and let it simmer uncovered for about 6 minutes. Let it simmer longer if you prefer a thicker consistency.
Add in the saffron milk. Reduce heat.
Once the chicken is done, turn off the fire and stir in garam masala. The garam masala will enhance the flavour of this dish.
Serve hot with saffron rice or plain rice.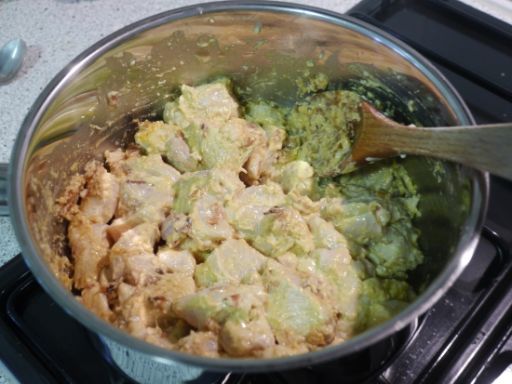 The Verdict
Very aromatic, creamy and smacking good. The chicken pieces have fully absorbed the flavour of the spices so with each bite, one can smell and taste their aroma. The garam masala really brings out this dish to its full flavour. Hubby loves it and had second helping. He even had it for lunch the next day. The only complaint he has is that gravy isn't as thick as he likes it. But overall, he loves this dish. My picky Little One loves it too. It's the only Indian dish that she tucks in heartily without whining about it being too spicy or too aromatic for her.
You can spice up this dish by adding one finely chopped green chili to it just before serving.
Notes
The yogurt tenderise the chicken. From what I understand it is best to use Greek yogurt as it has less water content. However if you have only normal plain yogurt, just drain it in a muslin cloth. I made mine using normal plain yogurt.
For the above, I didn't have single cream so I used whipping cream (the Internet says it's the same … maybe not?). My gravy didn't thicken, so I added 1 tsp of cornstarch to thicken it but it had little effects (yes, I cheated a little). I will try coconut cream next time instead of whipping cream.
I'll also replace cashew nuts with candlenuts as candlenuts is cheaper.
Please do not cook this dish with chicken skin on it. The skin prevents the spices from penetrating into the meat.