Time flies fast. It is almost a year since I last wrote an entry on my blog. So what had happened to me, you might wonder? In short, I was depressed for quite a while after we moved to Singapore. Why wouldn't I be happier in my homeland surrounded by friends and family? Theoretically I should be but sadly, I only felt lost and lonely. Everything was familiar yet unfamiliar at the same time. I don't know how to explain that feeling. I was happy to find my old friends yet somehow I couldn't seem to connect with them anymore. Strangely, however, I connected better with my new expatriate friends, with lots of things to share and talk about. Besides that, I also had problems with cooking in Singapore: I don't know how to cook anymore – products are different here. Also, to cook western food is a very expensive affair. It is much cheaper to eat out than dine in. With Asian produce easily available now, one would think I would have dived right in and cook up a storm of Asian cuisine. Nope! The craving or inspiration wasn't there at all. Neither did I have any baking spirit. It was like suddenly everything zapped out of me.
What zapped me out of it all this is work. I have to thank my better half for pushing me to that direction. I didn't like the idea at first as that meant I would have less time with Little One and I was afraid of neglecting her. I still do fear that but on the brighter side, I found myself again – the independent, carefree & happy Cooking Ninja with a zest for life. I have started baking again and now I itch to cook again… feed who? My little family & my new colleagues, of course.
To celebrate the newfound me, I would like to share with you this delicious pancake recipe that I found online but I adapted it a little. Everyone loves it, young or old, except Little One (much to my disappointment). Why? Because it is too soft in the middle, mummy. Erhm… that's the way it should be, sweetie!
American Pancakes – Thick & Fluffy
Serves 4 peoples
Ingredients
1 2/4 cup milk
4 tbsp apple cider vingear or white vingear
2 cups plain flour or half plain, half wholewheat
4 tbsp sugar
2 tsp baking powder
1 tsp baking soda
1 tsp salt
2 eggs
4 tbsp melted butter (optional)
Directions
Mix milk and vinegar in a big bowl and let it stand for 5 minutes. This is to sour the milk.
In another bowl, combine all the dry ingredients together (flour, sugar, baking powder, baking soda & salt).
Whisk eggs & butter (optional) into the milk.
Slowly stir, little by little, the dry mixture into the wet ingredients. Whisk until there are no more lumps.
Let the batter stand on the kitchen counter for 5 minutes or more.
Heat up your pan with a little oil over medium fire, spread a scoopful of batter or 2 table spoonful of batter on the pan.
Cook until bubbles form on the surface of the pancake. Flip it over with a spatula. Let it cook for a minute or until light brown on the underside.
Serve hot with either maple syrup or Nutella.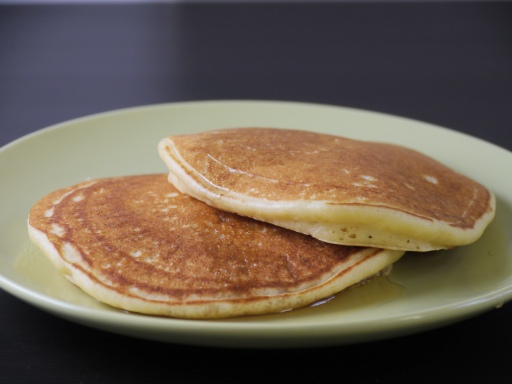 The Verdicts
These pancakes are thick, light and fluffy – just what I craved for. They are so good and addictive that my better half could simply eat all of it even though he was already full. They are quite stuffing however as they are so thick 🙂
Notes
The pancakes taste better if you let the batter stand for awhile before cooking it. If you are short of time, then ahead to make them immediately after everything has been combined. They still taste good.
I have made it with or without butter and I didn't find any difference in taste. So these days I just omit butter when making them.
You can replace the milk and vinegar combination with buttermilk. As for vinegar, if you don't have apple cider vinegar, try it with white or any other fruity vinegar, but not balsamic vinegar.