A new year a new beginning… so the saying goes. Seems like it is ringing true for us right now.
When we left France for our summer holidays in Singapore, little did we know we will be staying here for good. You see, Pierre's application for his Employment Pass (EP) to work in Singapore has been dragging on for nearly a year without any fruitful outcome. Would you believe that even on the day we went to collect his precious EP, the lady officer scrutinized the approval documents from top to bottom again, letter to letter, as if trying to hunt for another potential flaw that would make the EP null and void. Now collecting that little green credit size card stating Pierre is now a legal alien at another counter took less than 30 seconds (I kid you not). Needless to say, Pierre could hardly believe his eyes, kept saying 'pinch me, please. This is not a dream right. This card is not going to disappear over night right.' Slap him I did.
So what have we been so busy next? Well, last minute rushing here and there, getting documents done to enrol Little One into the French school. Why not a local school? you might ask since Singapore education system is one of the best in Asia. We would dearly love to (and it would cost a lot less) but sadly we couldn't as within 2 months here, Little One had already partially lost the ability to converse in French with her grandparents on the phone and she couldn't even remember simple words like "bird", "I love you", etc. in French. In the event that we had to move back to France in a year or two, getting her back into the French system would be a real issue. So French school it is for her, no matter if it costs us an arm and leg!
And now we are busy house hunting for our nest. So far it is either the apartment/house isn't to our liking or the asking rental price is way too high – classic. Tomorrow we have another viewing of an apartment. Let's hope we will find a place that fits us soon!
To celebrate this beautiful new beginning of our life here in Singapore, I present you this delicious chocolaty cake with chocolate ganache. I learnt to how to make this cake from Kim Cabe of our little ateliers culinaires group in Clermont-Ferrand.
Chocolate Velvet Pound Cake
(Adapted from The All-New Ultimate Southern Living Cookbook)
prep: 15 minutes
cook: 1 hr, 5 min
other: 15 minutes
serves: 12
Ingredients
1½ cup (200g) semisweet chocolate or dark chocolate bars, 54% cocoa
1/2 cup (113g) butter, softened
1½ cup package light brown sugar or ¾ cup light brown sugar, ¾ dark brown sugar
3 large eggs (I used 3 medium eggs)
2 cup plain flour
1 tsp baking soda
½ tsp salt
1 cup (8 oz) container sour cream or Bridélice, crème légère, 15% or crème fraîche)
1 cup hot water
2 tsp vanilla extract
Chocolate Ganache
12 oz (200g) package semisweet chocolate (dark chocolate, 54%)
1/2 c. whipping cream
3 tbsp butter
Directions
Preheat oven to 180°C (350°F – gas mark 4).
Melt chocolate in a bain-marie ie. using a bowl and pan/pot. (Make sure the bowl fits snugly over the pan) Break the chocolate into pieces and place in a heatproof bowl. Place the bowl on top of the pan/pot containing hot water. The hot water mustn't touch the bottom of the bowl. Bring the pot of water to a simmer. Stir gently as it melts with a wooden spoon or spatula. Remove from heat once all chocolate pieces are melted. Gently stir until smooth. Set aside.
Whisk butter and sugar at medium speed with an electric mixer for 5 minutes or until well blended.
Add eggs, one at a time, beating until just combined after each addition.
Stir in melted chocolate, whisking just until combined.
Sift together flour, baking soda, and salt. Beating at low speed, add flour mixture to chocolate mixture, alternating with sour cream (or crème fraîche) – beginning and ending with flour mixture. Mix until blended after each addition.
Gradually add 1 cup hot water in a slow and steady stream, beating at low speed until just blended. Then stir in vanilla.
Pour batter into a greased and floured 10-inch tube pan. Bake at 180°C (350°F – gas mark 4) for 60-65 minutes or until a long wooden pick inserted in center comes out clean.
Cool in pan on a wire rack 15 minutes. Remove from pan, and let cool completely on wire rack.
Just before serving, garnish it by dripping small spoonfuls of choclate ganache around edge of cake.
Enjoy!
Making Chocolate Ganache
Melt chocolate pieces and whipping cream in bain-marie. Whisk until smooth, then stir in butter.
Let stand for about 30 minutes. Beat at medium speed with an electric mixer for 3-4 minutes.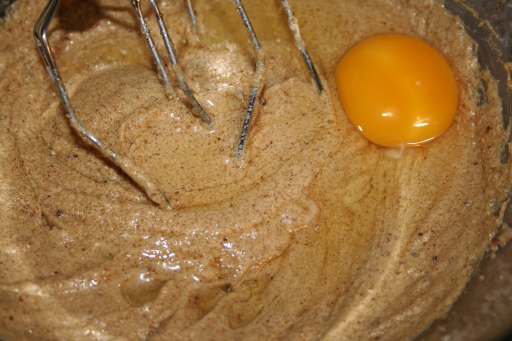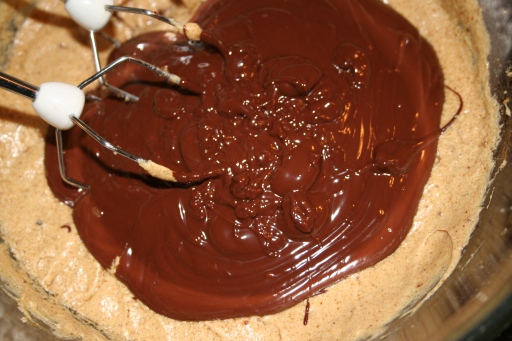 The Verdict
The cake on its own is very chocolaty and velvety – soft and moist like a dense sponge cake. Each bite of this cake with the chocolate ganache gives you an orgasmic chocolaty bliss! OK so maybe I'm pushing it a little, but it's really good 🙂
I have made this cake twice and each time, it was a total winner with everyone young and old. The 1st cake was for home and it was quite massacred by me (I turned it out a wee bit too early when it was not cooled down yet) but nobody minded the ugly presentation. And the cake was devoured in no time at all! The 2nd one was for Little One to celebrate her birthday in school with her teachers and classmates. I made 2 cakes and it was all polished up. The teachers loved it and asked me for the recipe.
Another idea is to make this into a layered cake with the chocolate ganache. It'll be the ultimate heavenly chocolate cake. Can one get enough of chocolate! Clearly NO.
Notes
If you don't have large eggs but have some egg whites sitting in your fridge, use 3 medium sized eggs and a few tablespoons of egg white for this cake and it will turn out marvelously good too.
I have baked once in a 10 inch tube pan and the other time, it was in 2 smaller heart-shaped baking pan. However with smaller pan, please adjust the baking time accordingly.
For the chocolate ganache, I didn't let it stand for 30 minutes. Once it is done, I spread it all over the cake. Alternatively I used a 64% or higher dark chocolates and add 1 tablespoon of icing sugar (powdered).