This month, the 4 Velveteers picked an easy challenge theme: 'Fruit' as in fruits fruits not the vegetables that are technically speaking fruits (so hold off your tomatoes). To spice up the challenge, it had to be a savoury dish. If fruit salad comes to your mind immediately, strike that out – it's the forbidden dish of the game. Ha Ha! We thought of everything.
For this month's challenge, I thought of making something with pineapple or mango or jackfruit or apples. Pierre kindly suggested Pineapple Rice but I have already posted that 3 years ago and have also done a simple stir-fry Pineapple Prawns, Coriander Pork with Pineapples and Rolled Roasted Pork with Dried Fruits . On top of that, my mom has been cooking pineapple savoury dish lately so I don't think my whole family wanted to eat another pineapple dish. Now jack-fruit: the taste and texture is rather special. When I was a little girl and we were still living in a kampung (village), my mom used to cook this delicious jack-fruit curry often, however that practically stopped once we moved to a housing flat. The last time she cooked this dish was back in the late 80s! The other childhood dish that I fondly remembered is green papaya curry. My mom used to cook it very often too as papaya plants were aplenty in our front and back garden. Back in the old days, a childhood friend of mine used to climb up our papaya plant to pluck the fruit for me. And she was very fast & agile too. I often wondered even till this day, how she managed to do that. I think if I ever climb one, I will snap it into two! For the life of me, I can't even climb a tree least a plant to save my life.
So I asked my mom to show me how to make this dish, however for some odd reason we couldn't find any green papaya in the markets nearby. In the end, we settled for one that looks the greenest among the sea of ripe papayas. My mom learnt how to cook this Green Papaya Curry from my paternal grandmother who used to make lots of delicious Nonya dishes.
Before we proceed to the recipe, here are some information about papaya:
It is an excellent source of fibre, vitamin C, E & A.
Its seeds are edible (bet you didn't know that!) and have a sharp, spicy (pepperish) taste. According to Internet sources, the seeds are sometimes grounded and used as a substitute for black pepper.
It has quite high amount of pectin.
Young leaves of papaya can be steamed and eaten like spinach.
Green papayas are usually cooked in curries, stew or eaten as salads. Choose papayas with reddish-orange skin and that are slightly soft to the touch if you are eating it on the day of purchase. A few black spots on the surface are ok as they will not affect the taste. However avoid those that are bruised or overly soft. Store ripe papayas in the refrigerator and eat it within a day or two. For those that are green with some yellow patches, leave them at room temperature and they'll ripen in a few days. To speed up the ripening process, place them in a paper bag with a banana. (yeah, really!)
Green Papaya Curry
Ingredients
1 small green papaya (peeled, de-seeded, sliced or julienne)
400 ml coconut milk (add milk if you prefer to have more gravy)
10 shallots (peeled & quartered)
3 garlic (peeled & quartered)
a bit of dried belachan/dried shrimp paste (optional)
1 lemongrass (bruised)
some dried shrimps (optional)
¼ tsp turmeric
pepper, light soya sauce & salt (for seasoning)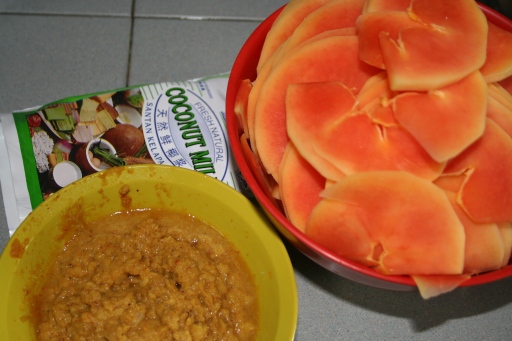 Directions
Peel, cut the papaya into half and take out the seeds. Thinly slice the papaya or cut it into julienne (thin match stick size). Set aside.
Soak the dried shrimps until soften. Then pound it a bit to mash it.
Blend shallots, garlic, dried shrimp paste and turmeric together in a food processor into a paste. Set aside.
Heat wok with some oil until hot.
Stir fry the paste with the dried shrimps and bruised lemongrass under medium heat until it changes colour (the paste will turn light brown). It'll take about 15 minutes.
Add in the sliced papaya, stir to mix the paste with the papaya.
Season the papaya with light soya sauce, pepper & salt.
Once the papaya soften, pour in the coconut milk.
Let it boil a few times until the papaya is cooked (according to your liking – al dente or well cooked). Taste and adjust seasoning of dish to your preference.
Serve hot with white rice.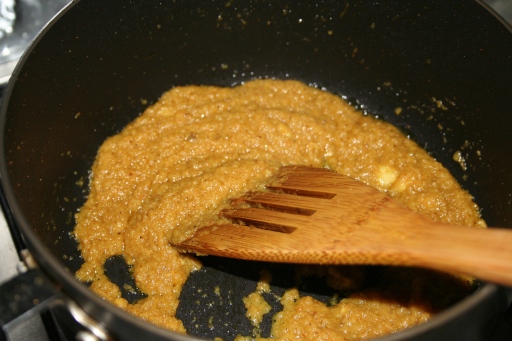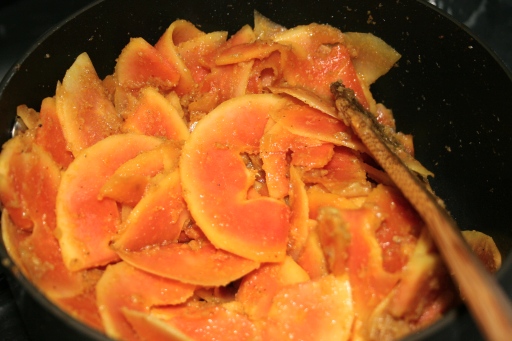 The Verdict
Very aromatic with the sweet-spicy pepperish taste of coconut milk gravy. The papaya slices were cooked just right – not too soft and I could still taste the slight flavour of the papaya.
Note
For a spicy taste, you can replace pepper with one or two long red or green chili (de-seed). Just cook it together with the paste.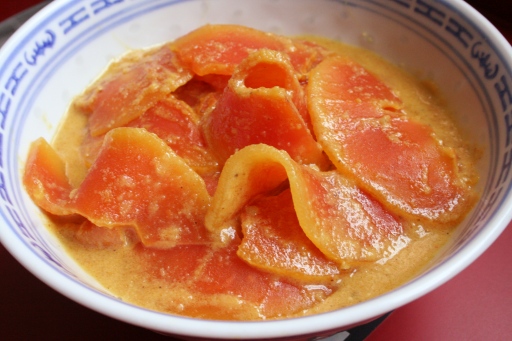 The 4 Velveteers
The 4 Velveteers (started by Pamela, Aparna, Asha, and Alessio) are a group of food bloggers, who are passionate about a new dish/ style of cooking/ cuisine and food in general. Each month, we will share with you our recipes, experiences & verdicts on our blogs. If you are interested in joining The 4 Velveteers! in our monthly adventure, please feel free to drop by our food blogs and leave a comment.
Do, check out what other Velveteers have created:
Alessio – Recipe Taster
Aparna – My Diverse Kitchen with her Eggless Vegetable Nut Loaf with sweet
Asha – Fork, Spoon & Knife
Ken – Hungry Rabbit NYC with his Skillet Roasted Sweet n Sour Pork
Madhuli – My Food Court with her Raw banana Cutlets & mix fruit chutney