I know I have been sadly neglecting my blog ever since I came back to Singapore (my 2nd home) and I'm honestly quite ashamed of it. Frankly I thought I would have more time to spent on writing and cooking for my blog but I was sadly mistaken. I had completely forgotten one very important factor: Little One is on summer vacation – that means she has no school 5 days a week for 2 months!!! And that means it's 'mommy! mommy! mommy!' from 7 am till 10 pm (strangely she can't seems to go to bed early like she did in France). Lucky me, I just happen to have a kid who is a morning riser no matter what time she goes to bed. Initially I thought 'no problem, I can occupy her, cook and blog at the same time. After all I did it before when she was little and she wasn't school then. It shouldn't be any different.' Ha! I found out the hard way that as Little One grows older, the more time and attention she commands of me. There goes my first-time mum theory of 'as they grow older, they'll be more independent and will play more on their own.' The first week in Singapore were new and exciting for Little One – language barrier didn't even posed a problem for her. Frankly she didn't even care if the other person or little kid didn't understand French. She just carried on blabbering to them, much to the amusement of the locals and kids. I have to say she did try her very best to think of French words in English and speak it but wasn't very successful. However within a week in an English speaking environment (or Singlish, depends on how one sees it), she now speaks English very fluently and can carry a long conversation with strangers on the street or train. I also encourages her to speak in French with me or Pierre so that she doesn't forget her other language.
As predicted, the excitement of being in a new environment quickly wore out and she got bored at home with no kids to play with (all the little kids in Singapore are either back in school or in full day care centre while their parents are at work). So I decided to enroll Little One in a local kindergarten for 3 hours each day so that she can at least play with little kids and at the same time, learn Mandarin (she's very keen to learn that) and English in an local environment. She loves her new school and looks forward to learning Mandarin every day, except writing Chinese characters which she finds it very hard and difficult. Who can fault her on that? Even I, at my age, find it hard to write certain characters. Learning how to speak Mandarin is a lot easier than learning how to write and read Chinese.
Now today's much awaited recipe was taught by a lovely Italian lady to Little One and her class during one of her many school excursions. The older kids visited the Chadieu Castle while the little ones like poppet got to learn how to make fresh pasta. We, the adults (teachers and parents volunteers for this outing) were frankly more excited than the kids! The kids were asked to of course wash their hands first, then each took turns to 'play' with the dough. Some cracked the nuts while others grated the cheese. And at the end, all the kids enthusiastically set to work, pinching, rubbing, churning out little pasta worms. (yes, we are horrible child labour exploiters!) Boy, did they do a very good job and they couldn't wait to taste their hard work. While the pastas were cooking, the teacher's assistant distracted the kids by asking each one to grace us with a song. You should have seen how every kid was tucking it in hungrily and savouring it to the last (not that they were hungry but they sure have gourmet taste buds). Little One loved it so much that she asked for another serving. All the kids went home all excited at the prospect of making pasta at home with their mum. The next day, some mum I met at school curiously asked me what exactly did their kid made during the excursion because she/he was excitedly talking about making something with flour, water, nuts, cheese etc. I guess this shows the pasta making session was a great success!
Made this delicious pasta with Little One I did, not once but twice at home. Well, Little One got bored pretty fast and I was left to finish the rest myself. Be warned, if you are doing it alone, it's quite labour intensive!
Homemade Fresh Pasta (with Pesto Sauce)
Serves: 5-6
Ingredients
Making Pasta
500 g durum wheat semolina/hard wheat flour (Semoule blanche de blé dur, fine)
water
Pesto Sauce
1 packet Fresh Basil leaves (a bunch)
some hazel nuts or pine nuts or walnuts or almonds or macadamia nut (roughly chopped or broken)
1 or 2 garlic (roughly chopped – add more if you wish)
a small block of Parmigiano-Reggiano (Parmesan – roughly grated or broken up)
Olive oil
salt & pepper for seasoning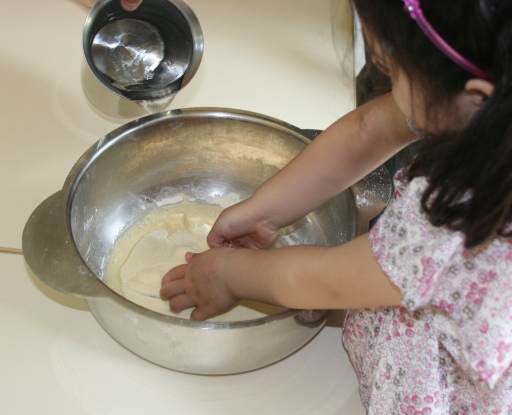 Directions
Making of Pesto Sauce
In the food processor or blender, put the basil leaves, roughly chopped nuts, garlic, some parmigiano-reggiano and a lot of olive oil together. Season it with salt & pepper.
Blend/process it until it is a puree. Stop and scrap down the sides in mid process if necessarily, to ensure that it is well mix and blend.
Adjust the amount of olive oil according to your desired final consistency (thicker or thinner) ie. more olive oil if you prefer thinner consistency.
Your pesto sauce is now ready to be mixed with your pasta.
Store the sauce in an air-tight container with a thin layer of olive oil on top if there is any leftover or if you are not using it immediately. The pesto sauce keep well in the refrigerator for a week or more.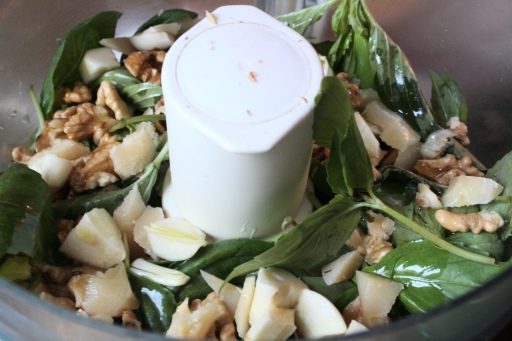 Making Pasta
In a big bowl, mix fine durum wheat semolina with some water. Continue to add water bit by bit while stirring until it forms a dough. If it is too wet, add a bit more durum semolina. If it is too dry, add a little bit of water.
Knead the dough until it is smooth and soft.
Take a small portion of dough off and cover the rest with a cloth.
Lightly flour your working surface or your plate/dish and your hands too. Pinch a really small bit of dough off, roll it in between your palms. It should form a small noodle strand that looks like a worm. Drop it on the flour surface or plate. Continue to do the same with the rest of the small portion of dough.
Once your plate is filled with pasta, sprinkle a little bit of flour on them and delicately mix them up without flattening them or distorting their shape. The flour prevents them from sticking to each other, forming a big lump.
Continue rolling the pasta until all the dough is used up. Once all the pasta are done, set them aside.
Bring a pot of water with some sea salt in it to boiling point, put in the pasta and let it cook for about 15 minutes or until al dente.
Serve it hot immediately with freshly made pesto sauce and some freshly grated parmigiano-reggiano on top of it.
Bon appétit !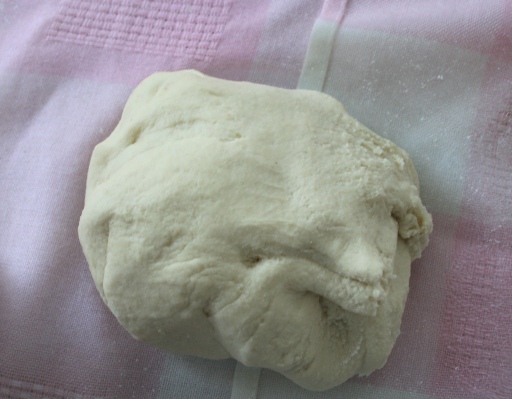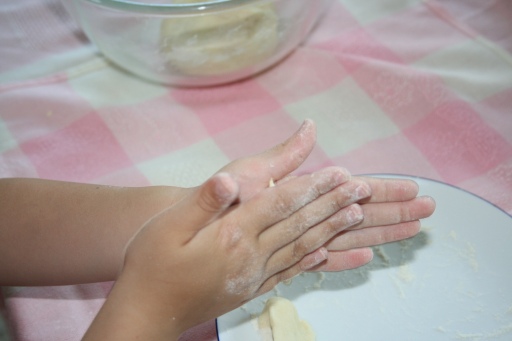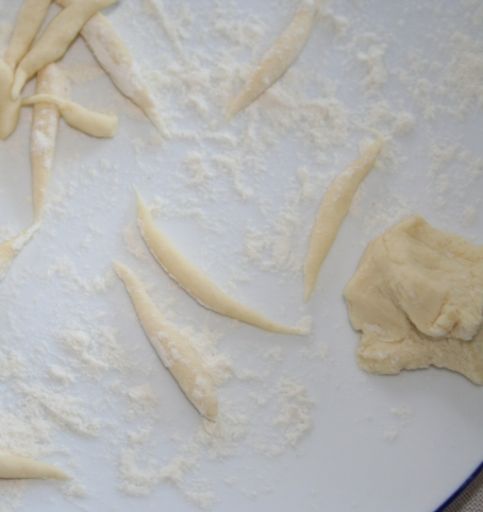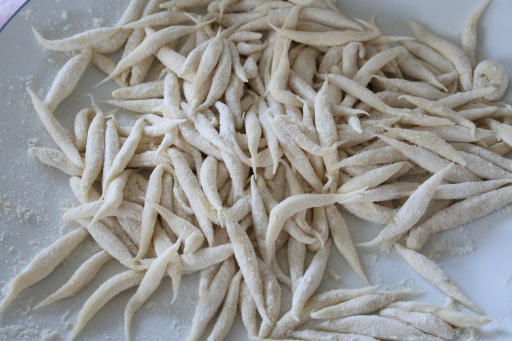 The Verdict
This home made fresh pasta is simply the best I have ever tasted – most notably their texture feels definitely better in the mouth. It is so good. I'm terribly lousy at describing taste and texture so you'll just have to take my word for it and try it yourself to believe it!
Bottled pesto sauce never really did a thing to me. Frankly I never cared for it… that is until I made and tasted home made pesto sauce – it ROCKS! So totally different from the flat taste bottled sauce. The home made pesto is strong and tasty (full of flavour).
The whole family (parents-in-law, sis-in-law plus Pierre & Little One) loves it very much. Everyone went for 2nd helpings until nothing was left in the pot.
Notes
.
For the pasta, I didn't think to measure the water volume when I made this as that is how I learned it from the Italian lady at Little One's outing. I'll try to measure it next time when I make this again.
For the pesto sauce, I didn't give an exact amount because I also forgot to measure it. In any case, this sauce is rather flexible. You add the garlic, parmigiano-reggiano, nuts & oil according to how much you want in them. Add more garlic if you want it more garlicky. You can also toast the pine nuts before blending them together with the sauce.