What to do with my home-made tofu? That question that has been floating in my head for days – awake or in sleep mode (yes, that's how dedicated I am with my food). Don't worry, I'll spare you the juicy details of what I did with my tofu in my dreams. I did thought of making curry out of it but I have already made my tofu curry in my earlier post. So strike that out. How about stir-fried tofu? Nah…too plain and uninteresting. Now the idea of turning tofu into something sweet is actually quite appealing and challenging. So many sweet desserts started floating in my brain: 1) Tofu Cheesecake: now this is out because my mom's place doesn't have the necessary equipment. 2) Tofu Ice Cream: don't have any ice cream making machine. 3) Tofu cake or muffins: Too hot to bake in Singapore. What to make? What to bake? The pressing question with no answer. Oh dear, the 4 Velveteers' dateline is drawing very near like TODAY!…then out of the blue, my inner bulb just went 'blink!' – Tofu Onde-Onde! Tofu what??? Yes you heard me right – Onde-Onde made out of tofu. I'm not explaining myself clearly, am I for those of you who haven't the faintest idea what this is. But for those who had this before, I can see you rubbing your eyes with disbelief at the title of this post. Is that even possible? Well, you already know the answer to this question or else you wouldn't be reading this, would you?
Onde-Onde (pronounced 'on-day') is a Peranakan dessert made up of glutinous rice flour with pandan leaves flavour, filled with palm sugar and coated with freshly grated coconut flesh. It can be eaten at any time of the day – be it for breakfast, tea time or as snacks. This is one of my favourite childhood dessert.
Tofu Onde-Onde
Ingredients
100 g freshly grated coconut
a pinch of salt
100 g Gula Melaka (Palm Sugar) (finely chopped)
100 g silken or firm tofu (homemade tofu in my case)
100 g glutinous rice flour
water (if necessary)
A few drops of pandan essence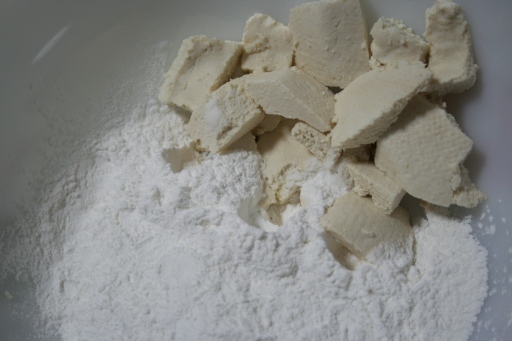 Directions
In a bowl, mix the freshly grated coconut with a pinch of salt together. Season it to your liking and set it aside.
In a big bowl, mix the silken/firm tofu together with the glutinous rice flour well together with a few drops of pandan essence. Knead to form a dough.
Add in a little bit of water if the dough is dry. If dough is too wet, add a little bit of glutinous rice flour. The dough should not be too wet nor dry.
Pinch a small portion of dough and flatten it lightly on your palm.
Fill the center of your dough with some palm sugar and close it by bring the edges together.
Roll the dough in your palm to form a smooth ball. Set the little ball aside on a plate and continue to make small little balls like this with the rest of the dough.
Bring a pot of water to boil. Drop these little balls into the boiling water.
The tofu-rice balls are cooked when it floats to the surface. Remove them with a slotted spoon and shake off the water.
Roll each ball in the coconut/salt mixture.
They are now ready to be served and eaten.
Enjoy!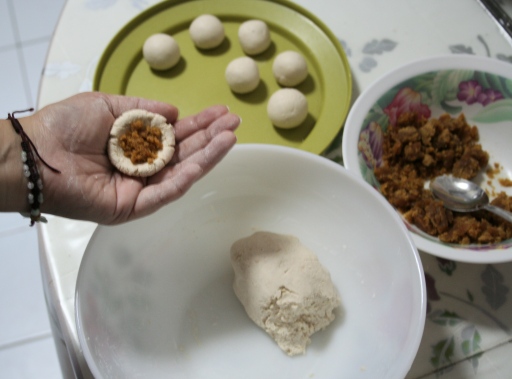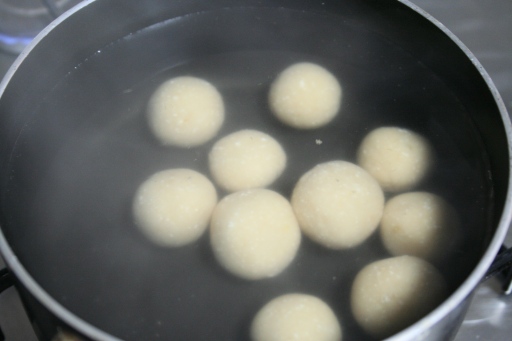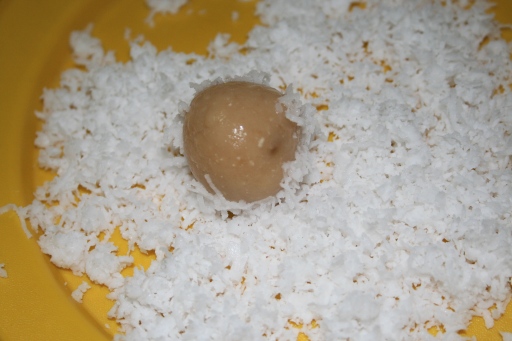 The Verdict
It's very soft and slightly chewy like a mochi with the delicious oozing palm sugar in the middle. One definitely can't taste the tofu in them. My mom said it is as good as those made completely with glutinous rice (that is after I managed to convince her to try it. You should have seen my mom's doubtful look on it when she finally popped it in her mouth because I was standing right in front of her waiting for her verdict. LOL!). Pierre, who isn't a big fan of such Asian dessert, admitted that it was pretty good. As for me, I like this version very much and will definitely make it again.
Notes
For the flavours, I didn't have pandan essence or leaves at home, so I used vanilla essence. The flavour didn't quite come out but it still tastes good all the same. You may also omit the flavours and make it plain. Or you can make it plain with out any fillings or flavour and serve it with some sauce on top of it.
If you don't like the palm sugar filling, you can experiment with other types of fillings to your liking like peanuts or coconut mixed with palm sugar, etc.
You can also turn the above recipe into soup dumplings by replacing the fillings with red bean paste or peanuts and serve it in a sweeten broth.