I have always wondered how to make this delicious French pastry cream that I've seen in a lot of French pastries. Well, I got lucky the other day and got hands-on teaching from my mom-in-law. I have to admit, it is a lot easier than I thought and it reminds me a bit of how we make caramel custard.
So, guess what dessert we made with this pastry cream. 🙂
Crème Pâtissière (French Pastry Cream)
Serves: 4
Preparation time: 15 minutes
Ingredients
½ litre milk
4 egg yolks
130 g fine sugar
2 packets vanilla sugar
30 g plain flour or cornflour
a pinch of salt
Directions
Bring the milk, vanilla sugar & a pinch of salt to a gentle boil in a pot.
In the meantime, whisk the egg yolks and sugar with a wooden spoon in a big bowl until the mixture becomes pale and light. Stir in the flour slowly until it is thoroughly mixed with the egg mixture.
Pour the boiling milk into the mixture a little by little while whisking continuously to avoid curdling. And then stir in the rest of the milk until the mixture is well combined.
Transfer the whole mixture into a pot and heat it under low setting. Stir it constantly with the wooden spoon or spatula scraping the sides and bottom until it has thickened.
Once the custard has thickened, take it off the heat, pour it into a clean bowl and let it cool down. Once cooled, cover it with a plastic wrap and refrigerate it until needed.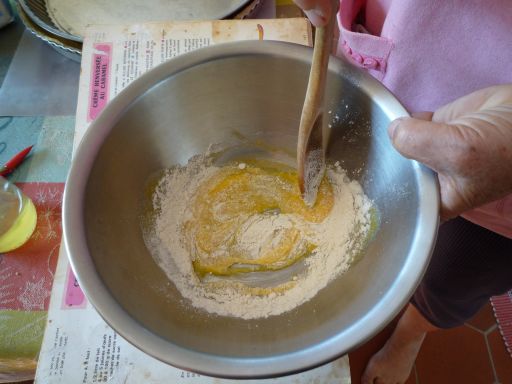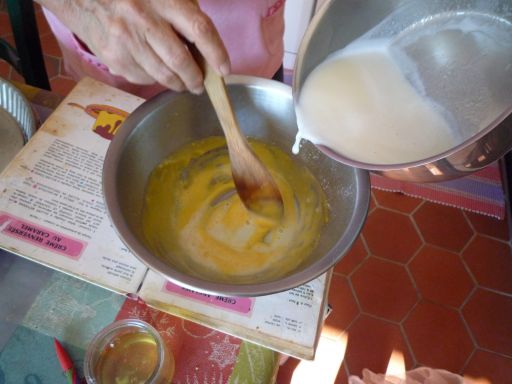 Crème Pâtissière au Chocolat (Chocolate Pastry Cream)
Stir in 150 g chopped chocolates into crème pâtissière while it is still hot, making sure that it is well blended in.
Crème Pâtissière au Café (Coffee Pastry Cream)
Add in few drops of coffee extract or 2 tbsp instant coffee.
Notes
It is said that using plain flour to make crème pâtissière gives a thinner consistency. So to have a thicker consistency, some use cornflour instead of plain flour while others use a mix of cornflour and plain flour to make this. I say, try all 3 methods out to see which consistency pleases you most. 🙂
And also, some added a bit of melted butter or sprinkle some powdered sugar on top of the crème pâtissière to prevent a skin from forming when it cooled down.