As all of you already know, Pierre and I love Indian food, besides cooking some at home, we frequent a lot of Indian restaurants too. The menus always have a lot of unfamiliar words that we can only understand thanks to the provided translation. As I was writing this post, I decided to do some search on what those we see most often mean.
Here is what I found: Batak (duck), Chingri (shrimps), Gosht (meat – invariably lamb), Jingha (prawn), Kofta (meat balls), Murgh (chicken), Nargis (boiled egg), Paneer (cheese), Bhindi (okra, ladies' fingers), Dall (lentils), Ghobi (cauliflower), Kumbi (mushrooms), Matar (peas), Saag (spinach); and "Aloo Gosht" means Potatoes with Meat. And this is what is simmering in our pot today.
It all started on twitter with a group of wonderful and good food blogging friends. We were twittering about food (what else) and such when I kept seeing the word 'Ghost' popping up. Whenever Jamie and Deeba mentioned about Jamie's Aloo Gosht, they would joke about Meeta seeing ghost when having this dish. Now that piqued my ninja curiosity wondering if Meeta really had some ghostly encounter with this dish. To my great disappointment, it was nothing of the kind. LOL! You see, Meeta was trying to compliment Jamie on her recent Aloo Gosht dish when she accidently typed Aloo Ghost instead, causing Jamie and Deeba teased her non stop about it. To be honest, I never really made the connection between gosht and ghost until Meeta let me in on the joke. It was then that I took a double look at the word 'GOSHT' – LOL. So here we are, I made our very own Aloo Ghost, oops, I mean Gosht.
The below recipe is a slightly modified version from the original version by Madhur Jaffrey's Indian Cooking on Jamie's blog, Lifesafeast.
Aloo Gosht – Delhi-styled lamb cooked with potatoes
Ingredients
7 tbsp vegetable oil
175 g onions (finely chopped)
1 fresh green chili (seeded and chopped)
5 cloves garlic (finely chopped)
1 thumb size ginger (finely chopped)
1 kg lamb shoulder (cut into large cubes & keep the bone)
350 g tomatoes (peeled and chopped, juices reserved with the tomatoes) or 1 can tomatoes
1 tbs ground cumin
2 tsps ground coriander
½ tsp ground turmeric
1 tsp chili powder
2 tsps salt
500 g potatoes, peeled and cut in half
a bunch of coriander (roughly chopped)
600 ml water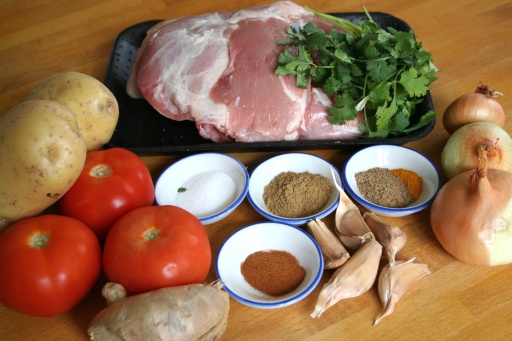 Directions
Heat up a large, heavy bottomed pan or wok with 7 tbsp of oil over heat high. When the oil is hot, stir fry the onions until golden brown.
Add in green chili, ginger and garlic in the pot and stir fry for a few minute.
Mix in the cumin, coriander powder, turmeric, chili, making sure it is well combined.
Add the chunks of lamb including the bones (if any) to the pot making sure it is coated with above mixture. Stir it for about 5 minutes.
Pour the chopped tomatoes (or a can of tomatoes), chopped fresh coriander & water and season it with salt. Stir to blend all in and bring it to a boil, sauce should thickened.
Reduce heat to low and let it simmer partially covered for 1 hour or so. Add more water if you find it too concentrated.
Add the potatoes and cook uncovered for 30 minutes or until soft. Check seasoning to taste before serving.
Serve hot with rice.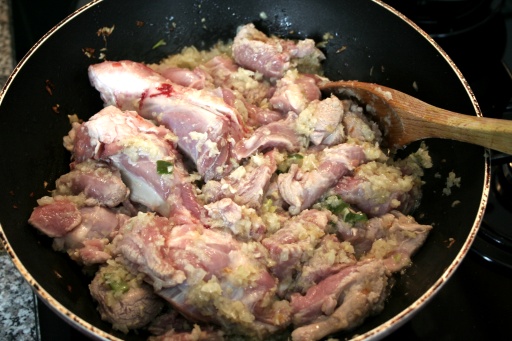 The Verdict
It's savory and very aromatic with just a teasing tint of spiciness in each spoonful. The meat is very tender. It's also a bit soupy and the broth is lightly tangy. My mom-in-law finds it very refreshing and umpf! A wonderful dish to have on a cold day!
Notes
In my above recipe I have reduced the quantity of water from the original recipe of 900 ml as I find my dish was way too soupy (very thin broth) to my liking and I had to simmer it uncovered for a long time to reduce water. I find that it is better to add less water first and dilute it later to your preference if one finds it too concentrated.
If you are using normal pot to cook the above recipe, cook step 5 until oil separates from the sauce and sauce thickens. However if you are using a non-stick wok or pot, oil will not separate from sauce.
If you have some very firm potatoes, you may let potatoes simmer together with the rest of the ingredients for an hour or so. As for me, the normal potatoes I had in my pantry just simply melt to pieces at the end of an hour or so of simmering.
Adjust the spiciness according to your taste. Omit the green chili totally if you can't take spiciness, but put more if you like it hot as I made it mild for my family. The chili powder I use in all my recipes is from grounded dried chili. I understand that there are different version of chili powder available – some are a blend of chili with other spices.