The other day I was trying to figure out what do with 3 ripe juicy golden apples and 2 bananas sitting on my kitchen table. After much thinking, I said to myself 'hey, why not bake an Apple-Banana Chocolate Crumble?' 😁. Here's how it turned out :
Apple-Banana Chocolate Crumble Pie
Baking : 50 minutes
Makes : 1 – 12″ pie
Ingredients
Pie Crust – sweet version (La pâte sablée)
250 g Plain Flour
125 g Chilled Butter (cut into cubes)
80 g Sugar
1 egg
A little water (ice cold)
Fillings
4 golden apples – sliced (as shown)
2 bananas – sliced (more if you prefer)
Dark Pastry Chocolate bars (cut up into pieces)
Cinnamon spread
60 g Sugar
1 tsp Ground cinnamon
120 ml Water
1 1/2 tsp Corn starch/corn flour
Crumble
60 g Sugar
90 g Chilled Butter (cut into cubes)
100 g Plain flour
Directions
Pie Crust
In a large bowl, mix the flour and sugar together and put in the diced up butter.
Using your fingers, rub the butter into the flour until it is crumbly (like sand). To make sure that all butter are rubbed in and there is no big lumps left, scoop some mixture into your hands and rub it in a rubbing motion.
Make a small well in the middle, crack in the egg and just a little bit of ice cold water. Mix the dough mixture with your hands until it forms a ball of dough. It will be a little bit sticky but the dough should hold together and comes off the bowl easily. Do not work the dough too much.
Wrap the ball of dough with a plastic wrapper and refrigerated it for 1 hour.
After 1 hour:
Roll out a clean piece of cloth on the table; sprinkle generously some flour on it.
Flatten the dough slightly with your hands and dust the dough lightly with flour before rolling the dough out with a rolling pin. Start rolling at the centre of the dough and work outwards. Roll the dough into a circle and larger than the size of your pie dish.
Put your pie dish face down to the centre of dough. Put your hand underneath the cloth (centre of the dough) and gently flip the dough over.
Without stretching the dough, press the pastry firmly into the pan and trim any excess dough from the edge.
Crumble
Combine all of them together and rub the butter with your fingers into the sugar-flour mixture till it is crumbly (not as fine as sand but coarse crumbs).
Filling
Preheat oven to 210°C (410°F)
Spread 1 layer of apple and banana slices in unbaked pie shell. Then sprinkle some dark chocolate pieces on it. Repeat the process till all the fillings are used up.
Heat up and mix water, sugar and ground cinnamon together. Once sugar is dissolved, stir in corn starch till blend in. (in a small bowl, dissolve cornstarch with a bit of water – this will avoid having lumps in the mixture). Remove pan from fire and let it cool down a bit.
Spread the sugary cinnamon mixture all over the fillings.
Spread crumble all over the filling covering the whole pie.
Bake in preheated over for 10 minutes (at 210°C / 410°F), then reduce heat to 175°C (350°F) for 35 to 40 minutes.
Serve warm or room temperature. It is delicious on its own or serves it with a scoop of ice-cream.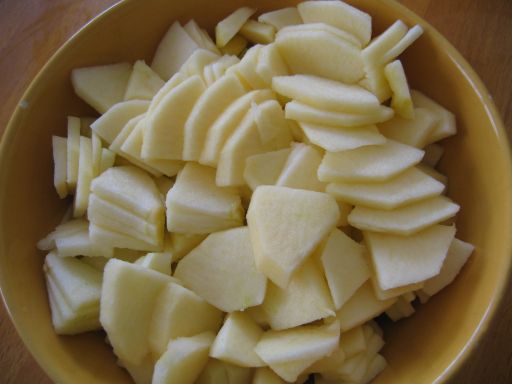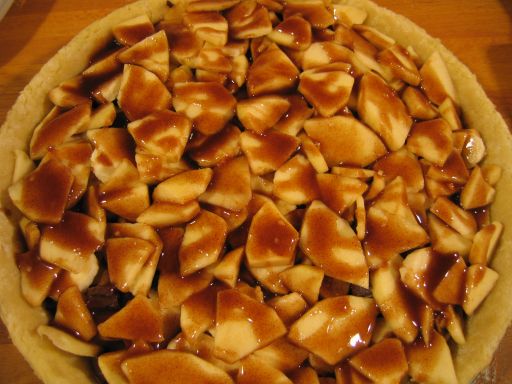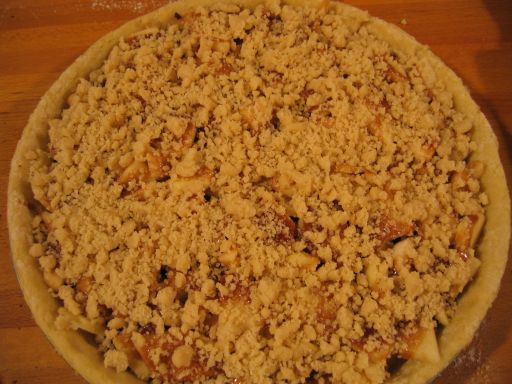 Conclusion
Normally I bake this pie with only apple fillings but I have decided to try it out with banana to see how the flavour would turn out. I added dark chocolate pieces to it just for my other half because he loves chocolates. To my surprise, it turned out to be very good. It has a nice mixed aroma of apple and banana with melted dark chocolate without any of them overpowering the other flavour.
The other day I baked this pie using only 3 apples and with milk chocolate simply because I didn't have any dark chocolate at that time. It turned out as delicious as usual but both of us agreed that an extra apple in the pie would taste better and that the dark chocolate version tasted better.
Note
As I do not like overly sweet stuff, this pie is just "nicely sweet". So for those who prefers it to be sweeter, please add more sugar to the crumble and sugary cinnamon spread.
If you cannot find any golden apples, royal gala is equally good as a replacement.
Sweet dough pie is rather fragile and it breaks easily. That's the reason why I rolled out the dough on a piece of cloth because it is easier to maneuver and transferring it to the pie dish than baking paper.