I have been wanting to try out some fish dishes for ages … you see, I have never cooked any other fish in my life besides salmon – it's hard to go wrong cooking this fish. Pierre isn't willing to be the sacrificed guinea pig for my fish adventure… He isn't, shall we say, a fish person. So when he finally agreed to it, I went out and got everything before he changed his mind. This is what we had for dinner last night:
Cabillaud à la menthe et crème fraîche
(taken from Papillotes – Sandra Mahut)
Preparation : 15 minutes
Cooking : 15 minutes
Makes : 4
Ingredients
4 filet Cod-fish – 150 to 200 g
8 stalks Fresh mint leaves – chopped
30 cl crème épaisse
1 Lime – grated (citron vert)
A pinch Mild chili (Piment doux)
4 tbsp Olive oil
Salt & Pepper
4 rectangular greased paper envelopes (papier sulfurisé) – 20×30 cm
Directions
Preheat oven at 210°C (410°F).
Coat each greased paper envelopes with olive oil.
Mix chopped mint leaves, lime zests and crème épaisse together. Season with salt and pepper to your taste and add a pinch of mild chili.
Place the filet in the envelope, spread some creamy mint sauce on it and lightly sprinkle it with olive oil, some lime zests and chopped mint. Season with salt and pepper.
Carefully close the envelope and bake it for about 15 minutes.
Serve with some small potatoes and a slice of lime. (I serve it with rice instead)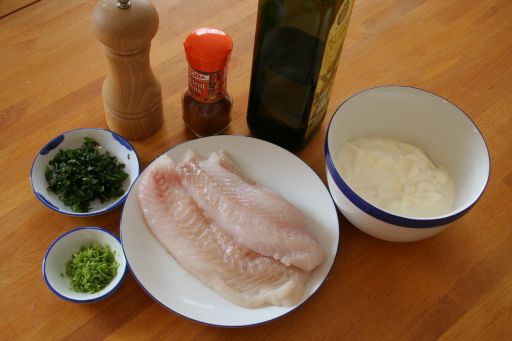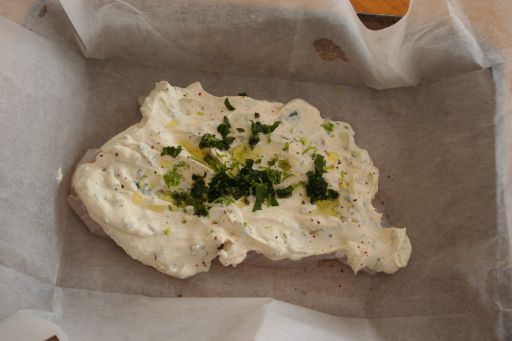 The Verdict
I didn't find this dish extraordinary. It was OK to my taste. Pierre seems to like it better. Both of us find that it didn't really have much of the mint-lime flavour in it. Perhaps I didn't put enough mint or lime zests in it. Pierre suggested adding some lime juice to the dish before baking.
Overall, I was rather disappointed. Maybe it's just me who didn't follow the recipe well. If any of you ever try this recipe, please let me know how yours turned out.
Now I just need to convince Pierre to be my guinea pig again in my fish adventure to cultiver my 'fishy fingers'… hmm, what bait shall I use? 😛
Note
Crème fraîche can be made at home by adding a small amount of cultured buttermilk or sour cream to normal heavy cream, and allowing to stand for several hours at room temperature until the bacterial cultures act on the cream.