I haven't been cooking much after I got pregnant – the hectic schedule of university studies and being a new mummy left me too tired at the end of the day to even cook … so Pierre has been the kitchen chef for the past 2 years. I promised him that once my exams are over, I will take over the wok and cook whatever he desires and fancy. So here we are.🙂
Yesterday we had some guests over for dinner and I asked Pierre what he would like for dinner … Being an Indian food lover, he immediately took out the Indian cook book that I got him 2 Christmas ago and picked out this :
Balti Butter Chicken
(taken from Indian – Shehzad Husain & Rafi Fernandez)
Serves : 4 – 6
Ingredients
150 ml or 2/3 cups Natural (plain) yogurt
50 g or ½ cups Ground almonds
1½ tsp Chilli powder
¼ tsp Crushed bay leaves (Laurier)
¼ tsp Ground cloves
¼ tsp Ground cinnamon
1 tsp Garam masala
4 Green cardamom pods
1 tsp Ginger pulp
1 tsp Garlic pulp
400 g or 2 cups Canned tomatoes
1¼ tsp salt
1 kg or 6½ cups Chicken, skinned, bonned & cubed
75 g or 6 tbsp Butter
1 tbsp Corn oil
2 medium Onions – sliced
2 tbsp Fresh coriander – chopped (cilantro)
4 tbsp Single (light) cream
Coriander sprigs
Directions
Put the yogurt, ground almonds, all the dry spices, ginger, garlic, tomatoes and salt into a bowl and mix them together.
Put the chicken into a large bowl, pour the yogurt mixture over it and mix.
Melt together the butter and oil in a medium karachi or wok.
Add the onions and fry for about 3 minutes.
Add chicken mixture and stir-fry for 7-10 minutes.
Stir in about half of the coriander (cilantro) and mix well.
Add the cream and stir in well.
Bring to boil and then remove from heat.
Serve garnished with the remaining chopped coriander (cilantro).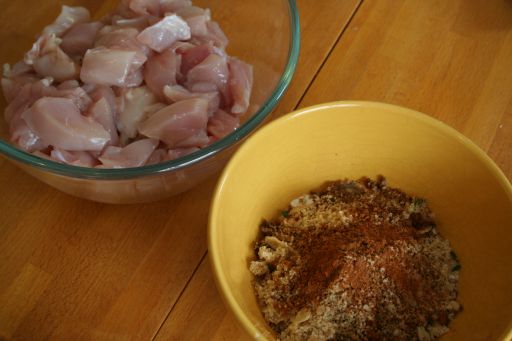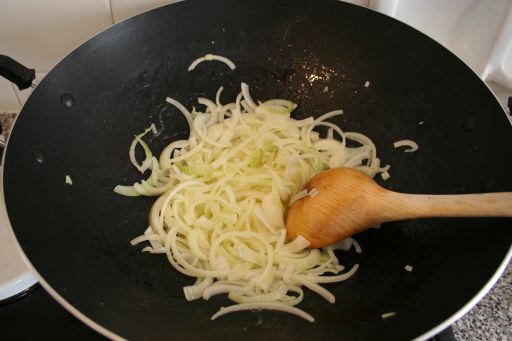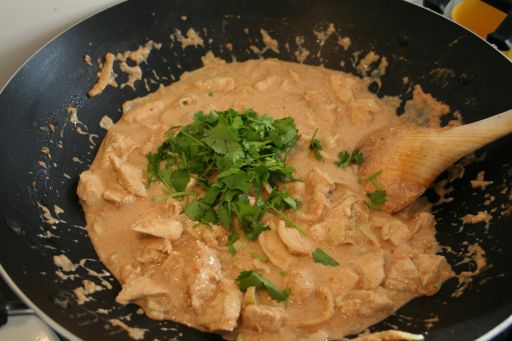 The Verdict
Surprisingly, it turned out rather delicious. It has an interesting mix of creamy aromatic spice flavour with a tint of piquant for the kick. The coriander enhance gently the flavour. My guests loved it as well, judging by the second – and third – helping till the pot was empty. Pierre likes it very much, noting that it leaves a tint of spiciness at the end of each mouthful without the lingering burning sensation of a spicy curry.
Initially I had my doubts over the final result because of my slight adaptation of the recipe – I used fresh tomatoes and bay leaves. And I blended the yogurt mixture by mistake instead of mixing it because the recipe stated "blend together thoroughly".
Note
For an even richer and creamier flavour, substitute natural (plain) yogurt with Greek-style yogurt.