A few years back, I couldn't understand why my mom (who has been cooking for the family for over 40 years) lamented how she was cooking the same old thing every day. She felt as if she had exhausted all the recipes she inherited from my grandmother or had came up by herself. And just when we were expecting her to give in to 'da bao' (take out), she would surprise us with some of her delicious dishes.
Now that I have started cooking for my own little family, I finally understand what my mom was going through. There are days when I'm full of cooking ideas and there are days when my brain just draw a blank and I feel doomed to redo the same stuff over and over. This was one of those days. But here came my prince charming to the rescue once again.
Pierre picked up one of our Indian cook book and found this lovely dish.
Grilled (Broiled) Prawns
(taken from Indian – Shehzad Husain & Rafi Fernandez)
Ingredients
18 large cooked prawns or shrimp
1 fresh green chili (sliced)
1 tomato (sliced)
1 small onion (cut into rings)
lemon wedges
Marinate
4 tbsp lemon juice
1 tsp salt
1 tsp chili powder
1 tsp garlic pulp
1½ tsp soft light brown sugar
3 tbsp corn oil
2 tbsp fresh coriander/cilantro (chopped)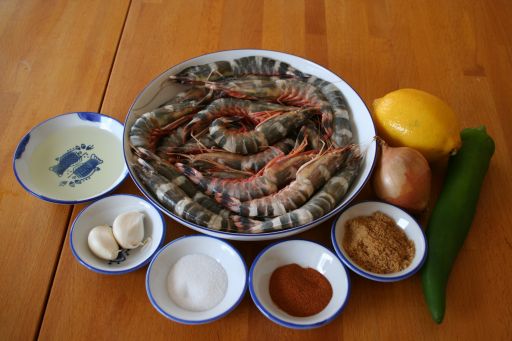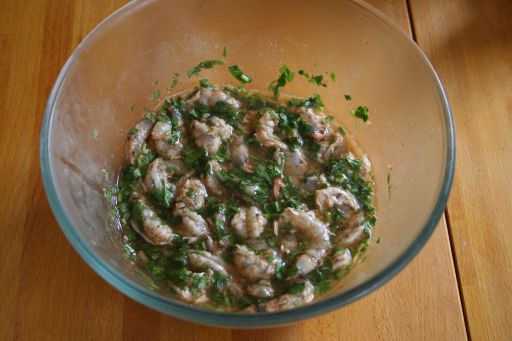 Directions
Peel and rinse the prawns gently under cold water. Slit the back of each prawn to open out into a butterfly shape.
In a mixing bowl, combine all the ingredients of the marinate and mix them well together.
Add the prawns to the spice mixture, making sure they are well coated and let it marinate for about 1 hour.
On a flameproof dish, place the green chili, tomato slices and onion rings. Then add the prawn mixture and cook under a very hot preheated grill (broiler) for about 10 to 15 minutes, basting it frequently with a brush.
Serve immediately, garnished with lemon wedges.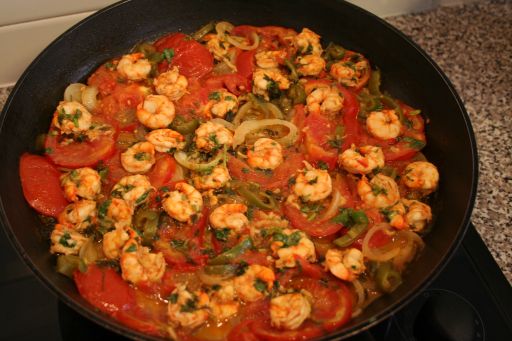 The Verdict
I was rather skeptical at first about how this dish would turn out (we didn't have a broiler or a grill) and it didn't look exactly like the picture in the book. Boy, was I very pleasantly surprised by how good it turned out: very aromatic with just the right sourish tint and a slight biting taste lingering in your mouth after each bite. It was neither too spicy nor too sourish. All the spices blended in well with the prawns. Rice and prawns were gone by end of dinner
Note
I've substituted cooked prawns with raw ones, used my frozen green chili and sunflower oil instead of corn. I have poured the whole prawn mixture into the pan as the recipe wasn't clear if I'm supposed to place only the marinated prawns onto the pan or the whole thing including the marinated sauce. In the end, I had to scoop out some of the sauce as it was way too watery.
Don't know what to do with the extra chili or lemon grass you have in hand? Freeze them and just take out whatever quantity you need later. This was the advise from the owner of my local Asian shop.