Pierre (who likes cooking too, but not all day) bought this new Indian cookbook because it's 1) simple with short cooking instructions 2) easily obtainable ingredients 3) and requires a limited number of them.
This is in contrast to our other main Indian cookbook which has authentic but complicated recipe with authentic – and as such hard to find – ingredients. However as simple the recipes were, the new book ended up like many of those books, sitting on the shelf neglected. But as I was browsing through my little library the other day, it practically jumped out in front of me shouting 'Me! Me! Me!' (the poor little thing
).
Prawns in coconut gravy
(taken from Bôllyfood by Marie-Laure Tombini)
Preparation: 15 minutes
Cooking: 15 minutes
Serves: 2
Ingredients
250 g cooked prawns
1 onion (sliced thinly)
½ yellow or green bell pepper (cut into small cubes)
½ tsp fresh ginger (grated)
1 clove garlic (pulped)
1 tbsp coriander (chopped)
½ tbsp turmeric
10 cl or 100 ml coconut milk
2 tbsp oil
salt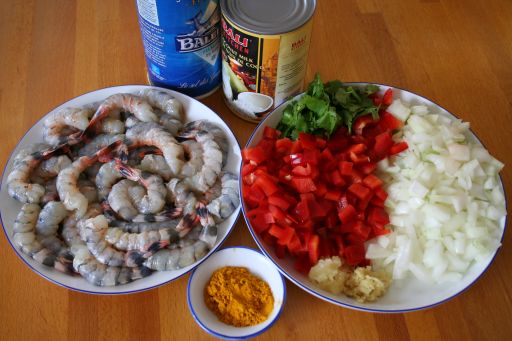 Directions
Peel the prawns, keeping the tail part.
Heat oil in a preheated wok or pan, sauté the onions till soft.
Add in the garlic, ginger, bell pepper, coriander and turmeric. Let it cook for about 5 minutes.
Throw in the prawns and make sure it is well incorporate with the spice mixture before pouring in the coconut milk.
Season it with salt and let it cook for about 3 or 4 minutes.
Serve it hot with plain rice.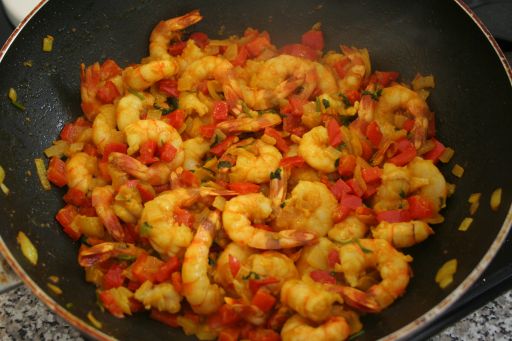 The Verdict
This dish is actually flavourful and tasty. I was pretty much taken by surprised, as I tend to be doubtful of "simplified" cooking. The prawns and the coconut milk give it a tint of sweetness. It's also a nice surprising change from spicy ones we usually have, and as such it's a good recipe for those who can't take spicy food or have young children.