Pierre always say that I have a tendency to buy enough fruits to feed a family of 4 and I always brush his comments aside. Well, this is one of those times he is right. I did bought too many fruits this time around. I have a ripe pineapple sitting in my fridge (originally doomed to go into a pineapple rice), some pears already in the trash and 4 over-ripe bananas sitting on the dinning table with a desperate 'Eat me. Eat me!' sign. I shared one with my daughter this morning so we are down to 3. I was thinking of making a banana pie or a banana smoothie when I recalled my last disastrous attempt at a modified version of Banana Chocolate cake recipe. Since then, I've been wanting to make this cake again to prove to myself that I'm not that bad of a cook. So this time around, I decided to play it safe and stick to my original recipe. Like Pierre always says, 'If it is fine and tasty as it is, why change it ?' but i have a tendency not to listen and like to experiment (and as any mad-scientist will tell you, experiments can turn really ugly!).
Banana Chocolate Cake
Ingredients
185 g plain flour (shifted)
150 g white or brown sugar
55 g butter (softened)
1 packet baking powder (about 11 g)
1 egg
3 banana (very riped & mashed)
Dark chocolate (in bite size bits)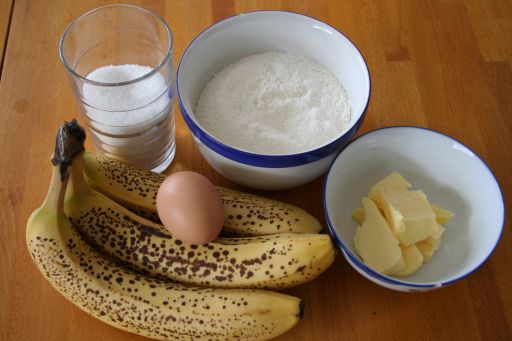 Directions
Preheat oven at 175°C (350°F – gas mark 4).
Beat egg and sugar till light and creamy.
Mix in softened butter and whisk it for a few minutes.
Pour in the mashed bananas and stir till combined.
Incorporate the shifted flour and baking powder in batches making sure that it is well blended before introducing the next.
Spread a layer of batter in the pre-greased loaf pan, sprinkle some dark chocolate bits on it. Spread another layer of batter on top of it. Then sprinkle another layer of chocolate and top it off with the rest of the batter.
Bake it for 45 minutes or until toothpick inserted into cake comes out clean.
Conclusion
The over-riped bananas gives a strong fruity flavour to the cake. It was very soft, fluffy and moist. The dark chocolate, a classic with banana, adds a nice kick on the taste buds. It's just nicely sweet.