Char Kway Teow (translated literally as "fried flat noodles" ), is a popular noodle dish in Singapore and Malaysia. The original version is stir-fried with pork fats and crisp croûtons of pork lard which gives its characteristic taste together with ingredients like cockles, egg, bean sprouts, slices of Chinese sausage and fish cake. Because of its high animal fat content, Char Kway Teow has a reputation of being an unhealthy dish. It began as a poor man's meal, but over time many more ingredients were added, making it one of the most loved dishes in Singapore.
This is my entry for Ruth's Presto Pasta Night. My recipe does away with the pork fat and is easier on the arteries.
Char Kway Teow
Ingredients
4 tbsp garlic (chopped)
350 g bean sprouts
6 stalks spring onions or scallions (cut in big chunks)
300 g Chinese mustard greens (chye sim)
2 Chinese sausages (thinly sliced) – optional
18 medium sized prawns (peeled & cooked)
5 eggs, beaten
4 tbsp fish sauce
5 to 6 tbsp sweet dark soya sauce
3 red chili (seeded and sliced) – optional
300 g squid (cooked and sliced into 1/2 cm rings)
8 oz vegetable oil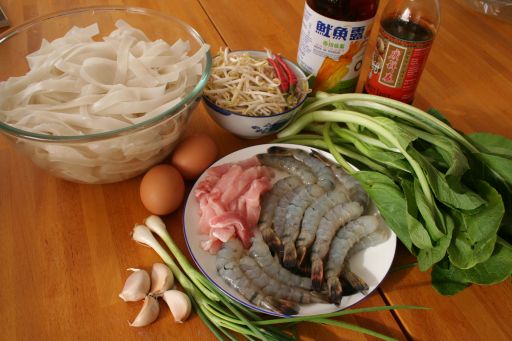 Directions
Soak the noodles in warm water for about 10 minutes or until they are soft. Drain and set aside.
Heat the wok until very hot, then add 3/4 of the oil. Lower the heat slightly, fry garlic and chili until garlic is fragrant and golden brown.
Add the thick rice stick noodle and Chinese mustard greens (chye sim), stirring constantly with 2 wooden spatulas for about two minutes.
Push the ingredients to the side of the wok, forming a well in the centre. Add the rest of the oil and heat it. Add the beaten egg and fry it together with the noodles.
Pour the fish sauce and sweet dark soya sauce over the noodles and fry all ingredients together for another one to two minutes before adding the Chinese sausages, cooked prawns, cooked squid, bean sprouts, and spring onions. Add a bit of water, toss to combine.
Taste to see if the seasoning is to your liking. If not, add a bit more fish sauce and dark soya sauce.
Serve hot.
Conclusion
This is the 2nd time I'm cooking this dish. The results this time around is better because I didn't overcooked my noodles. I just realized yesterday night that this dish is so simple and quick to fix. (why? once done, I only had two dishes to wash in the kitchen
)
We usually eat this as main course by itself. On the taste side, it is a sweet and salty dish at the same time, and is very typical of the colorful south-east Asian cuisine that is prevalent around Singapore.
Notes
The above quantities serve about 10 people.
If you find that your noodles are a bit under-cooked at the end, add a bit of water and stir the mixture. Let it cook for a minute or two and check the noodles again. If it is still not cooked to your liking, add a bit more water to it and stir it. However do not overcook the noodle or else it will break into small pieces when you stir it.
In preparation of this dish, I omitted the Chinese sausages and squid but added some pork slices and more prawns. You can add beef slices in place of pork if you wish. Or totally leave out the seafood if you are allergic to seafood. And if you find it troublesome or difficult to do the egg part, you can skip it too. The dish will still hold the wonderful flavour.
In some other recipe, fish sauce is replaced by oyster sauce and light soya sauce.