Living abroad made me realise the comfort zone I lived in and the things I took for granted living in Singapore (where everything is so easily accessible and within a stone throw away). One of the things I miss most is my mom's cooking and Singapore food. Craving for home food is what drove me to the kitchen and do the dishes I miss… sweet & sour pork happens to be one of them.🙂
Sweet & sour pork
Ingredients
250 to 300 g lean pork (cut to bite-size cubes)
2 tsp brandy or whiskey
1 egg (beaten)
2 tbsp plain flour
1 tbsp vegetable oil
1 small onion (diced)
1 small carrot (diced)
½ small green bell pepper (cored, seeded and diced)
some vegetable oil for deep frying
salt & pepper
Sauce
1 tbsp light soya sauce
3 tbsp sugar
3 tbsp wine vinegar
1 tbsp tomato puree (paste)
3 or 4 tbsp Chinese stock or water
1 tbsp cornflour or cornstarch (to make into paste)
Cornflour or cornstarch paste
Mix 1 part cornflour with about 1.5 parts of cold water. Stir until smooth.
Directions
To make the sauce, combine all the sauce ingredients (except the cornflour) in a bowl and set aside.
Marinate the pork with the brandy or whiskey, salt and pepper and leave it for 20 minutes.
Coat the marinated pork with the beaten egg.
Sprinkle the flour on the pork pieces and turn them till they are well coated.
Heat oil in wok or deep fryer. When oil is hot, deep fry the pork for about 3 to 4 minutes, stirring gently to separate the pieces. Do it in a few batches.
Remove the pieces with a slotted spoon and drain them using a paper towel.
Reheat oil until hot, return all the pork pieces to wok for about a minute or until golden brown. Remove it with slotted spoon and drain them again on a paper towel.
Drain off the oil, and wipe out the wok. Heat some oil in wok, stir-fry the vegetables for a minute or two.
Pour in the prepared sauce and bring it to boil. Thicken it with corn flour paste.
Add the pork to the sauce and make sure the pork pieces are well coated with the sauce.
Serve hot with rice.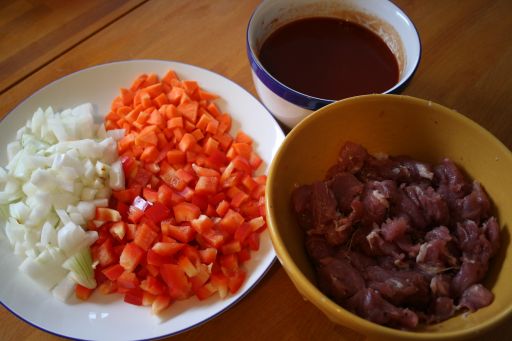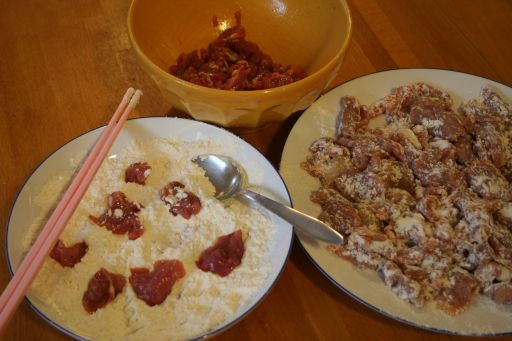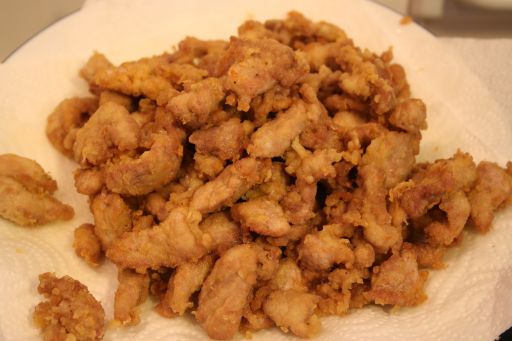 Conclusion
Sweet and sour pork is one of the most popular Chinese dish all over the world. I have made this dish several times for my friends and my in-laws and like the szechuan prawns, it never fails me. It's also one of Pierre's favourite Asian dish.
I love the taste of sweet and sour (at the same time), and in this dish the sauce doesn't overwhelm the flavour of fried pork and vegetables which is nice. In fact, all the ingredients of the dish blend in very well yet retaining their individual taste.
This dish is simple and easy to make (for Asian food…). The only part that takes a little effort is preparing the meat for deep frying.
Note
Regarding the preparation, I use rice-wine vinegar and red bell pepper instead of the green one. I usually prepare the sauce first before preparing the meat, and then go on to get the veggies done.
I tried this dish once with chicken. Sadly, it didn't turn out as tasty as the pork version and tasted too sweet using the default quantity of sugar. You can normally also use prawns or fish, this is something I might try sometimes. 🙂
There are variations on the way this dish is being cooked. Some recipe uses tomato ketchup instead of tomato puree paste and pieces of pineapples as part of the vegetable ingredient and add pineapple juice in the sauce.