When you think of France, you think of Paris and old cobblestone streets. Well, France is also many small territories spread out all over the world, from the cold shores of Canada (Saint-Pierre & Miquelon) to the sunny beaches of the pacific ocean (French Polynesia) or the jungle of the Amazonian forest (French Guiana). Two of those most well known territories are the Caribbean islands of Martinique and Guadeloupe, which, besides tourism, also happen to produce such delicacies as rum or bananas. Why this crash-course in geography? Because I happened to stumble by accident on a governmental web site promoting the local banana production with (guess what?) banana recipes. The one I tried is crevettes à l'antillaises (shrimps).
Crevettes à l'antillaise
Preparation: 20 minutes
Cooking: 10 minutes
Serves: 4
Ingredients
16 big raw prawns (peeled and deveined)
1 banana
1 tbsp rum
100 ml crème fraîche or sour cream (liquid)
1 lime
Directions
Cut the banana in cubes. Grill them on a pan and set them aside.
Grate some lime zests and extract the juice. Pour the juice over the bananas.
Using the same pan, cook the prawns till it turned pink. Add in the bananas and pour the cream and rum over the bananas & prawns. Season it with salt and pepper.
Serve it with creole rice (we went for plain rice to save time).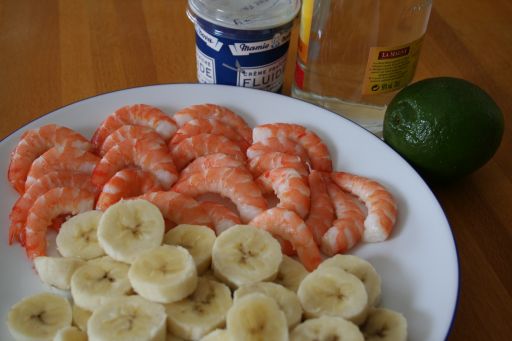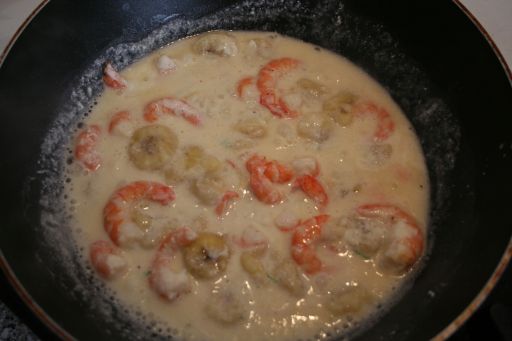 The Verdict
When I first saw the list of ingredients, I found this recipe rather interesting and thought it would taste good (shrimp go well with sweet fruits). Well it certainly didn't disappoint us: it's really delicious, creamy and sweet. The rum certainly gets noticed although it doesn't steal the show from the banana. Best of all, the recipe is simple and quick to prepare and doesn't require a bazillion of different ingredients and spices.