France is well known not only for its cuisine but also for its desserts and pastries. Lately, it seems one of the trendiest dessert in local restaurants is chocolate coulant – a small chocolate cake which has a liquid core that oozes when you cut it. I personally has never tasted a chocolate coulant before as chocolate isn't one of my favourite flavour (Pierre wouldn't believe it – how can a woman not like chocolate !). I was however very intrigued by the combination of a solid and liquid cake at the same time, and decided to try it.
Coulants au café
(taken from Le B.A-ba du Chocolat)
Preparation: 10 minutes
Baking: 8 minutes
Makes: 4
Ingredients
200 g dark chocolate (70% cocoa)
60 g sugar
150 g butter (cubed)
40 g flour (sieved)
10 cl strong coffee
4 eggs
a pinch of salt
Walnut oil
4 ramekins
Directions
Preheat oven at 220°C (425°F – gas mark 7)
Break the dark chocolates into pieces and put them in a medium size bowl.
Pour the strong coffee (boiling hot) onto the chocolate and let the chocolate melt.
Add the cubed butter and the sugar to the chocolate mixture and mix it well with a whisk.
Stir in the sieved flour. Then add in the eggs one by one making sure that the mixture is well mixed before stirring in the next egg.
Add a pinch of salt and and whisk it one last time.
Grease the individual ramekins with walnut oil and pour in the chocolate mixture.
Bake it for 8 minutes.
Let it cool on a raised wire rack before removing it from the mold.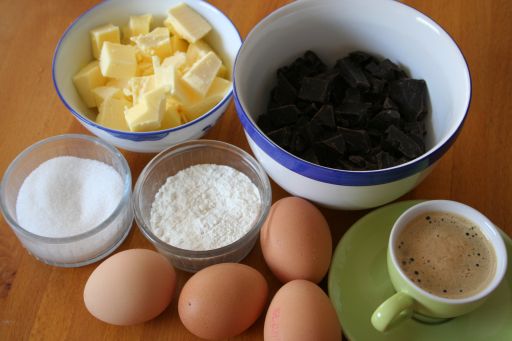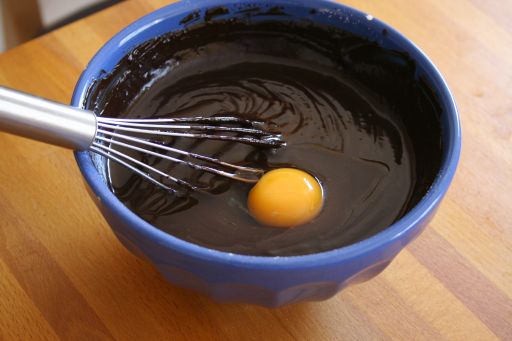 The Verdict
Well, given how rich the ingredients are, it better be good! And in fact, it is absolutely delicious: it's a very strong chocolate flavour with a tint of coffee aroma. If you like very sweet pastries or have a problem with the bitterness of dark chocolate, this one isn't for your however. And if you are on a diet you should probably not have read this far. In fact it is so rich that we had one each for tea time and ended up skipping dinner entirely.
Notes
The trick to get these cakes right is proper timing. Bake them a few minutes too long (or too hot) and they'll be solid like brownie. Too short and you'll have some chocolate sauce. In fact one of my ramekins was very slightly different in size and it's texture was already different from the three others.