Phad Thai or Thai Fried Noodles has always been one of my favourites dishes – it satisfies my craving for Hor Fun which I can't get in Nantes. Although Phad Thai and Hor Fun are two very different dishes, they both use rice stick noodles and are fried. What I love about Phad Thai is that it's very savoury in taste and yet so simple to dish up.
The dish itself is a classic of Thai food that you have most likely encountered if you have ever set foot in a Thai restaurant. If not, well it's never too late to get hooked.🙂
Phad Thai
(taken from Thai Cooking)
Preparation: 25 minutes
Cooking: 10-15 minutes
Serves: 4
Ingredients
250 g thick rice stick noodles
2 tbsp oil
3 cloves garlic (chopped)
2 tsp red chillies (chopped)
150 g pork (thinly sliced)
100 g raw prawns (peeled and chopped)
½ bunch garlic chives (chopped)
2 tbsp fish sauce
2 tbsp lime juice
2 tsp soft brown sugar
2 eggs (beaten)
1 cup bean sprouts/mung beans
¼ cup roasted peanuts (chopped)
sprigs of fresh coriander
Directions
Soak the noodles in warm water for about 10 minutes or until they are soft. Drain and set aside.
Heat oil in a wok or large frying pan till oil is very hot, add garlic, chilies and pork and stir fry constantly for about 2 minutes.
Add in the prawn meat and stir fry it about 3 minutes. Then add in garlic chives and noodles. Cover and cook for about a minute.
Add fish sauce, lime juice, sugar and eggs to the wok. Toss well with tongs or two wooden spoons until heated through.
Sprinkle with bean sprouts, coriander and peanuts. Serve with a slice of lime, crisp fried onion, soft brown sugar and chopped peanuts on the side.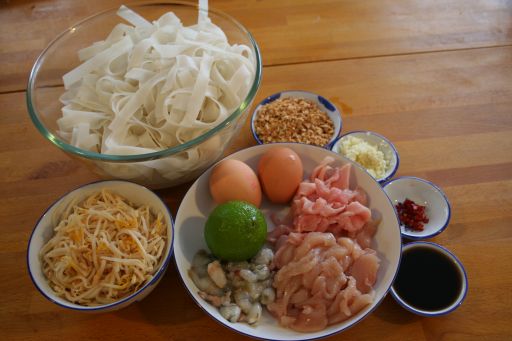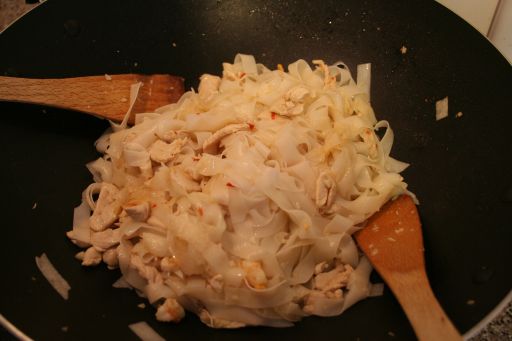 The Verdict
I had my parents-in-law over for dinner and they like it very much. My mom-in-law who is on a diet after gaining some weight from her recent holiday trips, couldn't resist the temptation of a 2nd helping. They were amazed that this dish, so simple in looks, is so full of flavour: a tint of acidity and sweetness at the same time coupled with the aroma of lime, fish sauce and peanut. Pierre loves it and went for his 2nd helping too.🙂
To prepare this dish, your wok has to be kept very hot all the time. I usually stir and mix noodles with the ingredients in the wok before covering it and letting it cook for a minute. I also mix it a little bit after adding the sauces and sugar before pouring the beaten egg over the noodles. Oh, I also toss in the bean sprouts (I prefer bean sprouts al dente than raw) together with the sauces.
Note
You can use chicken, tofu and any other vegetable such as carrot or bell peppers strips or shreds of bok choy, etc.
Some recipes use both lime and tamarind juice. It is said that the tamarind adds some flavor and acidity, but if you don't have tamarind, you can use white vinegar instead.