Today I would like to introduce to you a very simple and delicious traditional dish of Alsace (eastern of France): the tarte flambée (in Alsatian Flammekueche or in German Flammkuchen). It's a sort of "Alsacian pizza", although its history is absolutely not related in any way with the famous Italian treat (except maybe as the inspiration for what is known today as «white pizzas»).
My first meeting with Miss Tarte Flambée was for a dinner at Michèle's place (my mom-in-law) in 2002. I was surprised by the simplicity and easily available materials for dressing up Ms Flambée and my, she is delicious too. Since then, I have met Ms Flambée several times, and I'm sure your friends and family would love her as much as we do.
Here's Michèle's recipe:
Tarte Flambée
Baking: about 20 minutes
Makes: 4 person
Ingredients
500 g bread dough
250 g fromage blanc (cottage cheese or quark)
20 cl crème fraîche (sour cream)
2 big onions (chopped)
220 g thinly sliced bacon (cut in match sticks)
2 egg yolks
Salt, pepper and nutmeg powder
Directions
Heat oven to about 220°C (425°F – gas mark 7).
Heat 1 tablespoon of the oil in a pan and cook the onions, stirring over low heat for about 5 minutes. They must be soft and golden but not brown.
In a big bowl, mix fromage blanc, crème fraîche, egg yolks, salt, pepper and nutmeg powder all together. Then mix in the onions and bacon.
Roll out the bread dough until it is slightly smaller than the baking sheet and place it on the sheet.
Spread the onion-bacon mixture over the dough.
Bake for about 20 minutes or until the tart is lightly brown.
Serve it with salad.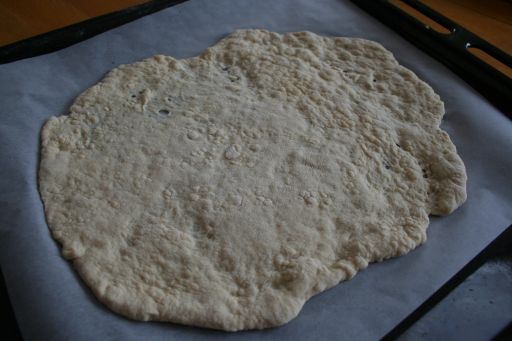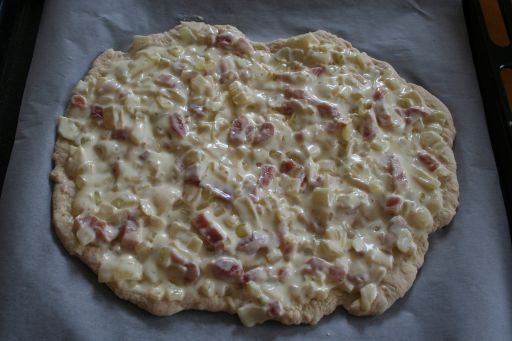 Conclusion
It's in no way an high-end super-complicated dish to make, but it's certainly delicious and satisfying. I bought the bread dough directly from my favorite local bakery, and the delicious crust that it became made the experience even more enjoyable. 😁
Note
You might want to let the dough rise before flattening it, then let it rise some more. Another version is using only crème fraîche without the eggs. Some people also add cheese or, mushrooms on top, but this is a departure from the original recipe.