Pierre loves prawns. He would eat them in whichever way or sauce they are cooked in: spicy, baked, in soup, buttered, steamed, with or without sauce, grilled, deep fried, etc. So we get to cook prawns pretty often, and one of my favorite recipe is this Chinese dish. It's so simple, easy and fool proof – it was a success the first time I cooked it.
Szechuan Prawns
Ingredients
250 to 300 g raw tiger prawns (shrimps)
½ egg white (lightly beaten)
1 tsp cornflour (cornstarch) paste (see notes below for preparation)
600 ml or 2½ cups vegetable oil
Fresh coriander (cilantro) leaves, to garnish
a pinch of salt
Sauce:
1 tsp ginger root (chopped finely)
2 spring onions (chopped finely)
1 garlic clove (chopped finely)
3-4 small dried red chilies (seeded and chopped)
1 tbsp light soy sauce
1 tsp Chinese rice wine (Shaoxing wine) or dry sherry
1 tbsp tomato purée (paste)
1 tbsp oyster sauce
2-3 tbsp Chinese stock or water
a few drops of sesame oil
Directions
Peel the raw prawns, then mix them with salt, egg white and cornflour (cornstarch) paste until well coated.
Heat the oil in a preheated wok until it is smoking, then deep-fry the prawns in hot oil for 1 minute. Remove with a slotted spoon and drain them on paper towels.
Pour off the oil, leaving only a bit in the wok. Add in all the ingredients for the sauce, bring to the boil and stir until smooth and well blended.
Add the prawns to the sauce, stirring to blend. Garnish with coriander leaves and serve it with rice.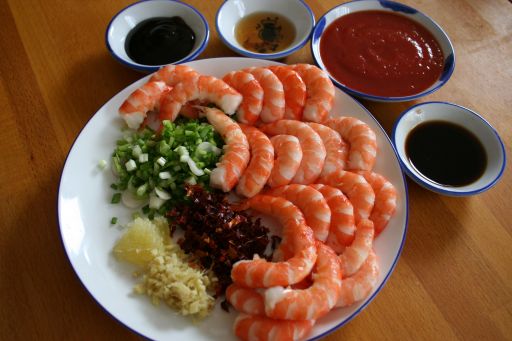 Conclusions
This dish never fails me. It is always as delicious as the first time I made it. Not only does it taste great, it's also very aromatic. Pierre, Patrick (my father-in-law) and his uncle love this dish very much and so do my friends. They always ask me when I'm cooking this dish again so that they can come over for dinner.😉
For preparation of this dish, I use long dried chilies (I think it is called cayenne pepper/finger chili/ginnie pepper) instead and I use only 3, yet Pierre felt it was a bit spicy for him. So if you or your guests are not used to spiciness, reduce it to 2 or even 1. When making the sauce, I usually double the quantity specified because Pierre loves to spread the spicy gravy over his rice. I also lump all the ingredients for the sauce in a small bowl and mix them up before adding them to the wok: it saves time. Sometimes I even prepare the sauce ahead of time and leave it in the refrigerator till I want to cook the meal.
As for cooking the prawns, sometimes I skip step 1 & 2 and just stir-fry my raw prawns with a bit of oil first before adding the sauce in.
Notes
To prepare cornflour paste, mix 1 part cornflour with about 1.5 parts of cold water. Stir until smooth. This paste can be used to thicken sauces.
If raw prawns are not available, then use cooked prawns but omit step 1 & 2 and add the cooked prawns directly before the sauce at step 3.
Take care when handling dried chilies, as chili juice stings; avoid touching your eyes and always wash your hands thoroughly afterwards. Discard the seeds as these are the hottest part.