This is another French recipe from my mother-in-law, Michèle. This big potato pie is rather delicious, and as often in this case, not the best thing for your diet ! It goes well as a side with some meat, but we also like to eat it as a main course (with salad) since you are unlikely to end up hungry after downing a portion.😉
Tourte aux pommes de terre
Ingredients
1 kg potatoes (peeled and sliced in thin rounds using a vegetable slicer machine)
1 big onion (sliced)
200 to 220 g bacon (cut in match sticks)
2 puff/flaky pastry (pâte feuilletée dough)
1 egg yolk slightly beaten with a bit of milk
40 cl sour cream (crème fraîche)
Salt, pepper and nutmeg for seasoning
Directions
Preheat your oven at 170°C (325°F – gas mark 3).
Stir-fry the sliced onions with a bit of oil till they are a bit transparent and soft.
Lay 1 puff/flaky pastry in a deep pie dish or round baking pan laid with baking paper.
Spread a layer of sliced potato in the pie, then spread some bacon and onion on it. Season it with a bit of salt, pepper and nutmeg powder.
Repeat the above step till all is finished.
Fold in the side border of the dough (towards the potato) and brush it with water (this helps to seal the two pastry). Then cover it with another puff pastry, pressing on the border a little to make sure it is sealed to the bottom pastry. Fold in whatever is left on the side.
Cut a tiny hole in the middle of the pie to make a chimney and place a small cone on the chimney.
Brush the surface of the pie with the beaten yolk-milk mixture.
Bake it at 170°C (325°F – gas mark 3) for about 60 minutes or till the potato is cooked.
Once the pie is cooked, cut a bigger circle on the top crust and put aside the cover. Pour in the crème fraîche. Put back the cover on the pie and leave the pie inside the warm oven (switched off) for a few minutes to let the cream melt and spread down the pie.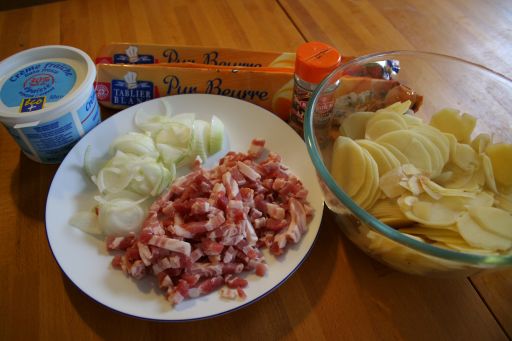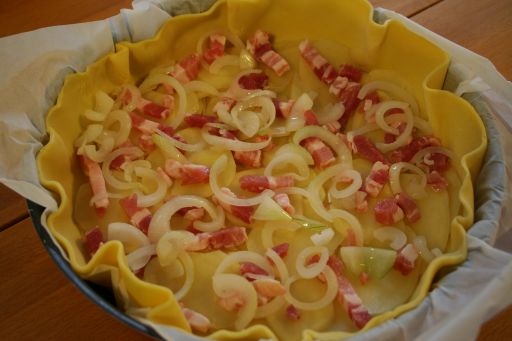 The Verdict
Well my first attempt at it turned out to be a masterpiece, although a bit by accident: I added a bit more bacon then normal (the "official" recipe use only 150 g) to finish a box, and the potatoes were well cooked to the point of melting in your mouth. With the cream, the result is a very delicious (and rich) texture, smooth in the mouth and with that tasty smoky bacon flavour. Yummy ! The crunchy crust around makes the whole experience even better. This is definitely one of Pierre's favorite recipe as well.🙂
Note
Some variants skip the bacon but use a lot of parsley to enhance the flavor. We are not a big fan of parsley but if that's your thing, you might like to have a go at it.