Many years ago a friend of mine highly recommended me this cook book by Mrs Lee Chin Koon (the mother of Singapore's Prime Minister Mentor Mr Lee Kuan Yew). She found the instructions to be very easy to follow and had already tried out a few of the recipes with delicious results. While I was tempted to go straight to the nearest book store to pick it up, I realized that it would end up sitting on the shelf like a white elephant for years: my mom reigns over the kitchen and is a great cook…
Funnily enough, I came upon this book by chance while on vacation in Singapore recently and immediately bought it without hesitation. Out of the many delicious recipes to try out, I opted for a beef rendang: it's really one of my favourite dishes!
For those unfamiliar with this fine delicacy, Beef Rendang is very popular in Malaysia and Singapore – traditionally prepared by the Malay community during festive occasions. The recipe originates from Padang in West Sumatra, hence the name Nasi Padang which is sometimes used as well.
Beef Rendang
(taken from The New Mrs. Lee's Cookbook: Nonya Cuisine)
Ingredients
1 onion
600 g beef shin
500 g grated coconut
1 rounded tbsp tamarind (asam) pulp
1 tsp sugar
1 tsp salt
Paste
4 slices galangal
4 slices ginger
4 cloves garlic
15 dried chillies or 2 tbsp pounded red chillies
1 stalk lemon grass
1 tbsp coriander powder
1/2 tsp cumin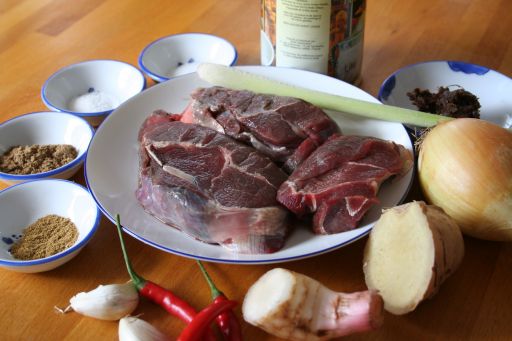 Directions
Paste
Soak the dried chillies for the paste in hot water. Deseed them and roughly chop the soaked dried chilies (use a lot less if you are not used to spiciness).
Peel and roughly slice the galangal, ginger and garlic.
Pound/blend them together with the coriander powder and cumin. Add the peeled and bruised lemon grass last (use the white portion only).
Cooking the rendang
Slice the beef into big or small pieces depending on your preference.
Peel and slice the onion. Set aside.
Prepare the coconut milk using 570 ml water.
Prepare the tamarind marinade: soak the tamarind pulp in 120 ml of warm water for 5 minutes. Squeeze the seeds and fiber with your fingers to extract as much juice and flavor as possible. Strain and discard fibers.
Combine all the ingredients in a saucepan. Bring to boil then simmer uncovered until the sauce has reduced by half. Cover and simmer for 30 mins until the meat is tender.
The Verdict
The sauce was awesome and tasted as good as I was hoping, but I can't say the same for the beef: it was unfortunately very tough. It seems that I don't have much luck in cooking beef: every time I cook some, the meat never turns out tender. When we are having steak, it's Pierre who cooks it but I so wanted to eat beef rendang.
Michèle loved this dish even though my beef was tough. She suggested that I use the normal beef next time as the beef shin takes a long long time to cook for it to be tender. Most likely I didn't cook the meat long enough (that's Michèle's opinion too). If the meat is cooked correctly, it should falls apart and melt in your mouth.
Notes
I can't get any freshly grated coconut here so I replace it with 750 ml of can coconut milk.