Our mini summer vacation at Pierre's grandparent's house up in Brittany was great – love the big old house and the vast green for our little ninja to run about and explore on her own, not forgetting the trips to the seaside: she loves running after the waves and refused to return home even though she was turning blue from cold. She also had a great time playing ball with her 96 year old great grandmother and was up to non-stop mischiefs around the house – climbing on the chairs and the stairs (I had a little heart-attack-moment when I found her half way up the stairs to the 1st level looking for her grandmother). Little ninja enjoyed herself thoroughly, can't say the same for her parents. We were suffering terribly from IWS (Internet Withdrawal Syndrome). As much as we were enjoying ourselves with the slow and tranquil pace of life in Brittany, I don't know if we could have survived 1 more week of surfing via a telephone line. Gosh! It's great to be back in civilization – first thing I did when I got back (after unpacking all the stuff of course) is kiss my ADSL modem. Man, I miss it so much. All I need is just switch on my PC and all the pages flow so fast, pulled out of thin air through the magic of Wifi.
Now, back to the kitchen… today I'm going to introduce a wonderful appetizer called Taboulé – a North African appetizer that consists of herbs mixed together with tomatoes, cucumber and couscous. The original recipe is made up mainly of parsley and mint and Bulgur instead of couscous, however the dish has become popular in France in a slightly modified form.
My very first taste of taboulé was at Michèle's house. It was very sunny that day – a perfect day for BBQ (that's what we had) and we were all withering under the summer heat till Michèle brought out this lovely and cold delicious looking bowl full of fresh veggies and some sort of wheat in it. I was rather intrigued by it. At first mouthful, I fell totally in love with this dish.
Taboulé à la Française
Ingredients
1 big cucumber (peeled, cored and diced in small pieces)
4 or 5 big tomatoes (skinned, seeded and diced in small pieces)
8 tbsp olive oil
2 1/2 lemons
3 big sweet onions
a bunch of parsley and mint leaves
a few black or green olives (chopped, optional)
a dash or two of Tabasco sauce or cayenne chili powder (optional)
salt & pepper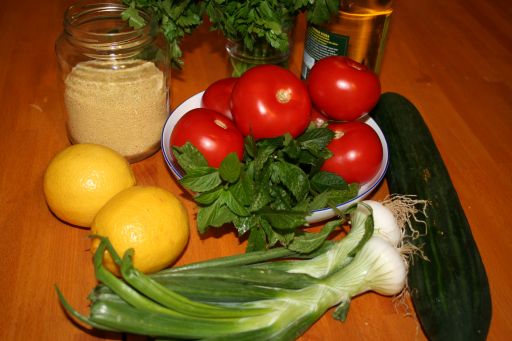 Directions
In a large mixing bowl, mix the olive oil and lemon juice with the couscous. Set aside.
Make a cross (X) on the bottom of the tomatoes. Bring a pot of water to a boil, drop the tomatoes into the pot and count to 10. Scoop it out with a slotted spoon and plunge them in ice cold water for a second or two. Take them out and peel the skin off using a sharp knife or your fingers. Remove the seeds and cut the tomatoes into small cubes. Put all of them in the couscous mixture.
Peel the cucumber, remove the core and cut it into small cubes. Mix them together with the tomatoes and the coucous.
In a mixer, pulse a bunch of parsley, mint leaves and sweet onions. Add this chopped herb mixture into the taboulé.
Mix in the chopped olives and season it with salt and pepper, a dash or two Tabasco sauce or cayenne chili powder.
Cover it with a plastic film and refrigerated it for at least 6 hours.
Check the taboulé. The couscous should taste soft and moist. If it is a bit dry, add a bit of water and adjust the seasoning if needed. Repeat the adding of water till the couscous is soft to taste.
Serve it cold as appetizer.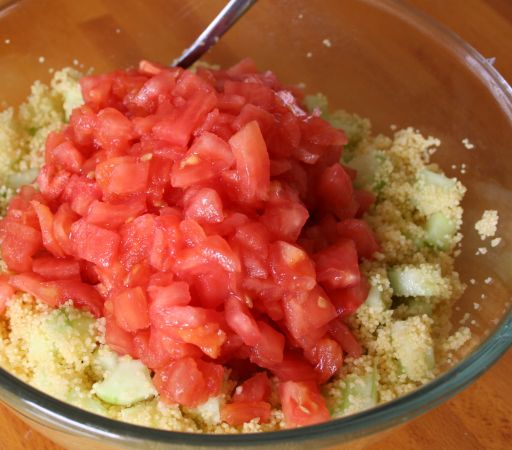 Conclusions
It's a very refreshing appetizer with a minty-parsley-lemony aroma, the crunchiness (and coolness) of cucumber and the lovely flavour of tomatoes all mixed into one. I like how all the herbs and vegetables complement each other so lovely together. The dash of Tabasco gives it a very light kick. It's great dish for summer.
Notes
What I like best about this dish is :
I can make a big bowl of it and keep it in the fridge for a few days. (A great dish to have for those days when I just prefer a light lunch or dinner – a good alternative to having salad).
You can adjust the mixture of taboulé to your preference – more parsley or minty taste; add more or less cucumber or tomatoes to your liking, more lemon juice or less etc.
You can never go wrong with it because you can always add water bit by bit to it if the taboulé is a bit dry.