Bibimbap (literally means "mixed rice" or "mixed meal" ) is one of most popular dish in Korea – a simple yet highly nutritious meal incorporating a variety of different vegetables along with beef and egg. In many parts of Korea, they also serve a vegetarian version, as well as another variation called dolsot bibimbap ("dolsot" meaning "stone pot" ) – served in an iron or stone pot or bowl with a raw egg on top of it. The bottom of the pot is then coated with sesame oil making the layer of the rice touching the bowl golden brown and crispy.
My Korean friend Sol-Yi, who introduced me to Gochujang Bulgoki, also prepared Bibimbap for my Japanese friend Yumi and I for lunch in her tiny student apartment. It was simple yet filling, nutritious and delicious. Both of us loved this dish immediately. Since then, I have made it a few times at home and as I change the ingredients, each time the taste of my Bibimbap is unique and different.
Bibimbap
(Sol-Yi's receipe)
Serves: 2
Ingredients
1 carrot (cut in thin sticks)
1 zucchini (cut into thin sticks)
½ yellow bell pepper (sliced)
125 g ground beef
2 eggs
Gochujang (Korean chilli paste)
Salt, pepper & sesame Oil
a pot of Japanese or round rice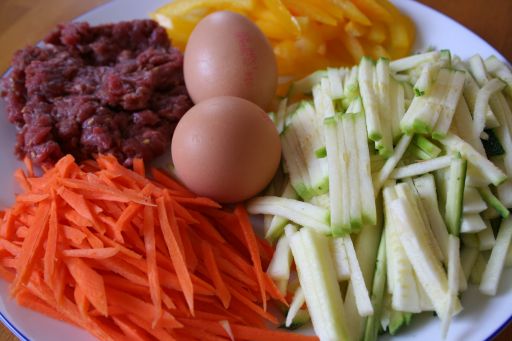 Directions
Marinate the ground beef with a bit of sesame oil and salt or light soya sauce and pepper.
Heat the wok with a bit of oil, stir-fry the carrot till cooked. Do the same with zucchini and bell pepper.
Heat the wok with some oil, fry the eggs sunny side up.
Lastly stir-fry the ground beef with a bit of oil.
Scoop some cooked rice in a large bowl, put the egg in the centre, then arrange the vegetables and the meat around the egg.
Serve it hot with a spoonful of Gochujang and a drop of sesame oil (optional). Mix (stir) them all together well and enjoy !
Add more Gochujang if needed according to one's taste.
Conclusions
Hehehe… when you mix it up, it really doesn't look that appetizing but it is truly delicious. Normally I always put some bean sprouts in my Bibimbap but this time, I decided to try out with the bell pepper. It gives a different taste but still delicious. I have yet to try it with mushrooms and other Chinese vegetables.
Notes
What I like about this dish is its versatility – you can use any type of vegetables. You can turn this dish into totally vegetarian or you can include some meat. Some of the vegetables commonly used in bibimbap include julienned cucumber, zucchini, carrot, mu (white radish), mushrooms, doraji(bellflower root), and nori, as well as spinach, bean sprouts, and gosari (bracken fern stems). Dubu (tofu), either plain or sauteed, or a leaf of lettuce may also be added, and beef can be substituted with chicken or seafood.