It means "pick-me-up" (metaphorically, "make me happy") ). It is said that Tiramisu is a recent Italian creation and not an old recipe passed from generations to generations as one would have thought. According to an article written in 1981 by a certain Giuseppe Maffioli (1925-1985: a famous member of the Italian Cuisine Academy, also actor and journalist): «Tiramisu' was born recently, just 10 years ago in the town of Treviso. It was proposed for the first time in the restaurant Le Beccherie. The dessert and its name became immediately extremely popular, and this cake and the name where copied by many restaurants first in Treviso then all around Italy».
I have always been fascinated with this dessert ever since I first tasted it in an Italian restaurant. I thought it was a very complicated recipe that only trained chef (the kind that wear a gray mustache and scream orders at their terrified kitchen assistants) could whip up. Boy, was I surprised when I found out how to make it a few years ago: it was REALLY a piece of cake (pun not intended) to prepare… in fact even a kid could do it. It was a success at the very first try, however I relied on my usual guinea pigs, Pierre and my parents-in-law to fine tune it to today's recipe. They are so supportive of my experimental cooking… I'm a very lucky girl indeed. 😁
Tiramisu
Ingredients
3 eggs (separate yolks & whites)
3 tsp icing sugar
1 cup strong espresso coffee
1 or 2 packet sponge fingers or ladyfingers
500 g mascarpone cheese
cocoa powder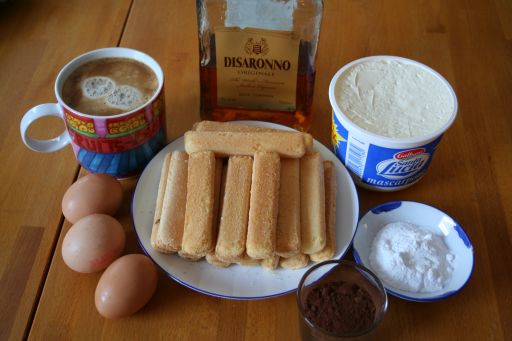 Directions
Prepare 1 cup strong espresso coffee (black & no sugar) and set it aside to cool.
Separate the egg yolk from the egg whites.
Beat the egg white till the peaks are stiff. It's stiff enough when you can turn the dish upside down without anything giving up to gravity.
Whisk the egg yolks and the icing sugar till it is creamy.
Add in the mascarpone and blend it into a smooth mixture (no lumps).
Fold in the egg white delicately till it is incorporated with the mascarpone mixture.
Add a few spoonful of Amaretto liquor into the coffee. (up to your preference – weak or strong).
Dip the sponge fingers (top & bottom) slightly into coffee and lay them on the base of a dish or container.
Using a small sieve, sprinkle the top with cocoa powder.
Spread a layer of the mascarpone mixture on top of it
Lay another layer of coffee coated sponge fingers and sprinkle the top with cocoa powder.
Spread the final layer of the mascarpone mixture on top of it.
Cover it and leave it in the refrigerator overnight (best) or at least 7 hours.
Sprinkle a coat of cocoa powder on top of the Tiramisu before serving.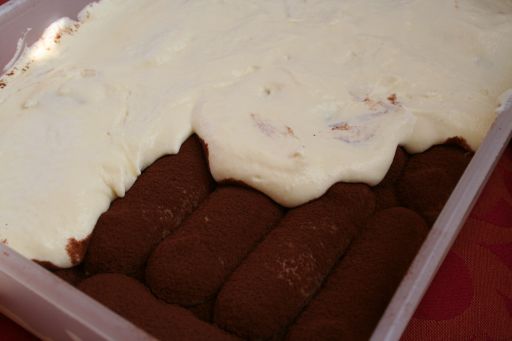 Conclusions
What can I say … it's as delicious as ever, with a smooth creamy texture, and not overly sweetened as some other recipes I've seen.
I have tried 2 different methods of making it: the lazy one and the 'make an effort' – both give me the same delicious results. The lazy method: just blend the sugar in with the egg yolk without really whisking it and then add in the mascarpone. The only difference I noticed is that with the whisked creamy egg mixture, I get more volume of the mascarpone mixture.
Notes
Kiddie friendly Tiramisu
Omit the alcohol (obviously 😛), replace coffee with Milo or ovaltine or hot chocolate… voilà you have a delicious Tiramisu for kids.
Sponge fingers or lady Finger Biscuits
Be careful when coating it with coffee, some absorb liquid very fast while others takes a longer soaking. Always test it out first to see how fast or slow it absorbs the coffee.
Liquor
The original Tiramisu use Marsala wine however I use Amaretto instead and others uses rum or brandy or even Kahlua liquor. Also some prefer to add the liquor to the egg yolk mixture instead of into the coffee like me.
Using raw eggs
The original Tiramisu' uses raw eggs but there is a risk of salmonella so some people prefer to cook the yolks bain-marie and to substitute whipped cream for the egg whites. Never had any issue over here using quality eggs.