The marvelous thing about living in the house of a great cook is you get delicious meals 365 days (obviously). However the danger is that you risk being spoiled for life regarding food – Asian food in my case – with the permanent tendency of comparing the dishes you eat outside to those at home. Now, who's this great chef I'm talking about? No, no, it's not Pierre – well he is a great chef in certain domain… which I won't tell you. 😛 Yes, the great chef of wok: my dear old mom. My friends are so used to hearing me complaining about the plate of chicken curry or chili prawns that I'm eating at the hawker center (aka Singaporean food court) being not as good as my mom's. They would their shake their head and smile… until I invited them over for lunch or dinner for some chili crabs or pineapple prawns. Even till today, whenever we talk about food, they will reminisce about my mom's cooking and will always ask me when am I going to invite them over for lunch again. 😛 Some of them even offer to buy and pay for the groceries and food if my mom can whip up those delicious prawns and crabs for them again. 😁
I have to admit that I have taken my mom' cooking for granted while I was living with her. To me, from a child's point of view, my mom will live forever (silly thinking isn't it) and she's never old. It's only in my late 20s that I looked at my mom closely one day and realized suddenly that she isn't getting any younger, and if I don't spend quality time with her, one day she might not be there anymore and I'll regret it for the rest of my life. It was then that I got to really appreciate every little things she does for me. My sis and I tried to learn cooking from her and to relieve her of that job so that she can relax and enjoy her old age… but my mom is stubborn: it's her kitchen and she kicks us out of it whenever we try to help her. She always says that we are giving her more work to do (messing up her kitchen) than helping and it would take her twice as long to cook than usual with us around.
But now that I'm living abroad with my own family, I have a chance to try out her recipe in my own kitchen. 😉 Trying to cook my mom's recipes is not that easy because she's from the "old school" and takes no measurement at all. And being two continents apart doesn't help either, as 'about the size of the small bowl we have in the kitchen' isn't a very helpful information. Over time I still got my way around some recipes, such as the following which I did for my Peruvian and French friends this week.
Chilli Prawns
Ingredients
1 kg prawns (peeled, left with tail)
light soya sauce
Paste
330 g shallots or onions (approximately)
4 cloves garlic
5 stalks lemon grass (use only the white part, sliced)
2 pieces candle nuts
4 slices galangal
2 to 3 tbsp fish curry powder
sugar, salt or light soya sauce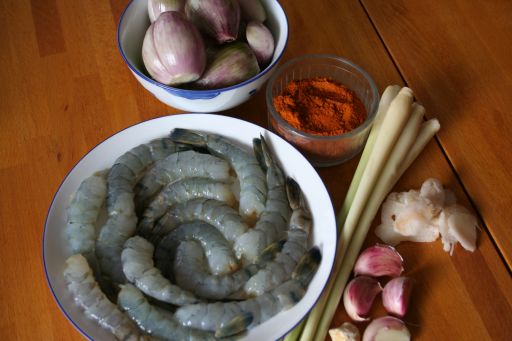 Directions
Paste: Grind/pound the shallots, garlic, lemon grass, galangal and candle nuts together to a fine paste. Mix the paste with the curry powder and set aside.
Heat the wok over a high flame until very hot. Add oil. Stir-fry the paste for about a minute. Lower the flame, then fry for another 2 minutes.
Add the prawns and stir-fry for a minute.
Sprinkle a bit of water, season it with a bit of sugar and light soya sauce or salt (to your taste) and stir it now and then till prawns are cooked.
Serve it hot with steamed rice.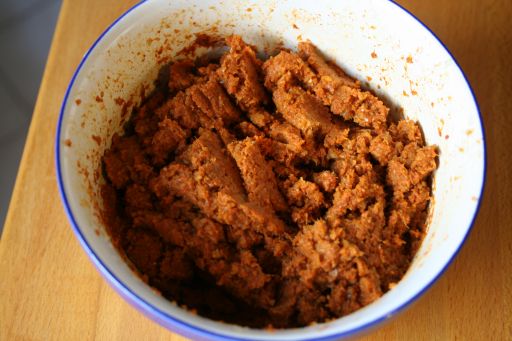 The Conclusion
Mmm… yummy…. almost as good as my mom's (that's my own opinion 😛) Pierre loves it so did my friends… They were quite amazed by the flavour of it, slightly bitter, sweet and spicy at the same time.
Notes
Candlenut can be found in Southeast-Asian markets. You can substitute it with macadamia nuts or Brazil nuts (these are three times as large as candlenuts, so use fewer) or raw cashews (two cashews for every candlenut) or blanched almonds (two almonds for every candlenut).
If you don't have fish curry powder, you can just simply add chili powder (in lesser quantity of course) or grind dried chilies (de-seeded) together with the paste, it still taste delicious. Or you can add any curry powder you have in your pantry and add in some paprika for the red colour.