Of late, our household has been on a "strict" diet (except little ninja) in our effort to shed that few centimeters off our waistline, which is why I haven't been baking much sweet stuff. But when 5 o'clock rings, our mouth really start to crave for something sweet to go with that cup of tea. It doesn't help either that our friends dropped by with delicious pastries. Resist as I might, I caved in to temptation yesterday, browsing excitedly through my pastry books, salivating at each and every cake and cookie (oh gosh, there are so many delicious cakes to make *swooning with pleasure at the photos*). And these little coconut cakes caught my attention – nice beautiful squares looking so inviting and tempting… and coconut plus strawberry? That sounded like an interesting combo.
Coconut Squares
(taken from Le Grand Livre des Desserts)
Preparation: 40 minutes
Baking: 45 minutes
Makes: 20
Ingredients
120 g plain flour
60 g self-rising flour
150 g butter (cubed)
60 g icing sugar
1 egg yolk
150 g strawberry jam
Toppings
3 eggs
120 g sugar
270 g grated coconut
Directions
Preheat oven at 180°C
Lightly greased the sides of a 22 cm square baking dish and lay baking paper with sides overhanging a little out of the opposite sides of the tray (to enable lifting the biscuits out of the tray easily).
Put the flour, icing sugar and butter in the processor. Using the pulse action, press button for 30 seconds or until mixture is fine and crumbly. Add the egg yolk, process a further 20 seconds until mixture forms a dough.
Roll the dough out onto the baking dish and refrigerate it for 10 minutes.
Bake it for 15 minutes till it is slightly golden.
Let the dough cool down before spreading the strawberry jam on it.
Toppings
Beat the eggs and sugar in a bowl until it is light and creamy.
Stir in the grated coconut.
Spread this coconut mixture on top of the jam and lightly press on it with the back of the spoon.
Bake it for 25 to 30 minutes: the cake should be lightly golden.
Let it cool down completely before lifting the cake out and cutting it into squares
These squares can be stored up to 4 days in an airtight container.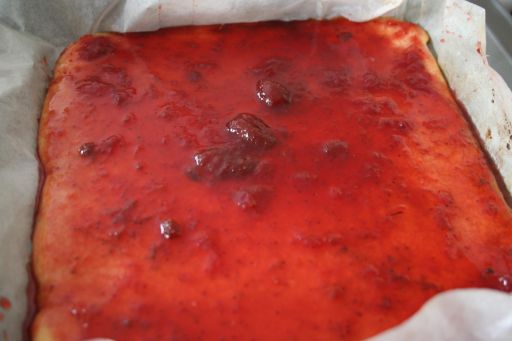 The Verdict
It turned out very delicious: yummy sweet tasting coconut flavour! However the strawberry jam is probably too thin and remains rather quiet (we do taste it a bit, but the coconut flavour is more pronounced). Perhaps it's because the home made jam I used is thin and runny. I'm usually not a big fan of coconut but this one is really good. 😁
These coconut squares are more like a pastry than a cookie or biscuits. It's soft and moist – prefect as little cakes (as the book calls it 'les petits gateaux') for tea or coffee time – just what I was looking for.😉
Notes
I found the dough to be a bit too soft and sticky to roll out onto the baking dish. If I bake it again, I will let the dough sit in the refrigerator for about 15 minutes or more to firm up before rolling it out on the tray.
I baked my dough at 220°C for 10 minutes instead of following the book.