We have been craving to go for some spicy food at our favourite Indian restaurant for more than a month, however the thought of dinning in a restaurant with our active and curious 1 year old is enough to dampen our desire. Even in a kid friendly environment, our little Miss Curious will start squirming in her seat within 30 minutes and want to walk around the restaurant, check out the people, the tables and what is on them. So in the end, we decided to cook an Indian meal ourselves. Pierre picked this Moghul-Style chicken out of all the curry dishes for it's use of saffron, and of course the fact that we have never tried it before!
Moghlai Cuisine originates from the kitchens of the the Mogul Empire. This cuisine, influenced by Middle-Eastern cuisine, is predominantly found in Nothern-India and many of the dishes carry over some of its dishes names: kofta, kebabs, pulao, etc. It's usually quite spicy like other Indian Cuisines, but has its own distinct aromas and taste – something I found out by cooking this dish.
This is my very first entry to this month 'Think Spice…Think Saffron' – a monthly spice event host by Sunita's World.
Moghlai Murgh
(taken from Indian – Shehzad Husain & Rafi Fernandez)
Ingredients
2 eggs
4 chicken breasts
6 tbsp ghee or butter
1 large onion (finely chopped)
1 fresh ginger -5 cm or 2″ long (finely crushed)
4 cloves garlic (finely crushed)
4 cloves
4 green cardamon pods
1 cinnamon stick – 5 cm or 2″ long
2 bay leaves
15 – 20 strands saffron
150 ml or 2/3 cup natural plain yogurt
1 tsp cornflour
5 tbsp double or heavy cream
50 g or ½ cup ground almonds
garam masala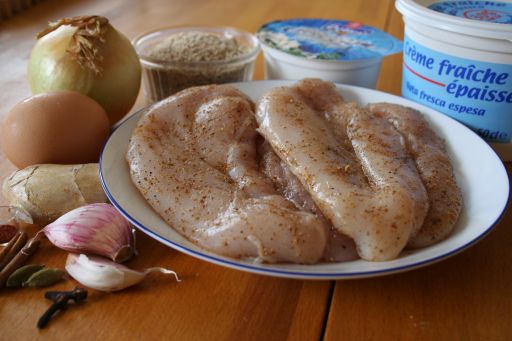 Directions
Coat the chicken with a little garam masala.
Lightly beat the eggs with salt and pepper and then brush the chicken with it.
Heat the ghee or butter in frying pan and fry the chicken. Remove and keep warm.
With the same ghee or butter, fry the chopped onions, crushed ginger, garlic, cloves, cardamons, cinnamon and bay leaves until the onions turn golden. Remove the pan from heat and let it cool a little.
Beat the yogurt with 1 tsp cornflour. Add the saffron and the beaten yogurt to the onions and spices. Mix it well to prevent the yogurt from curdling.
Put the pan back to the heat, season it with salt, add in the chicken with its juices (if any) and gently cook until the chicken is tender.
Just before serving, fold in the cream and ground almonds.
Serve hot.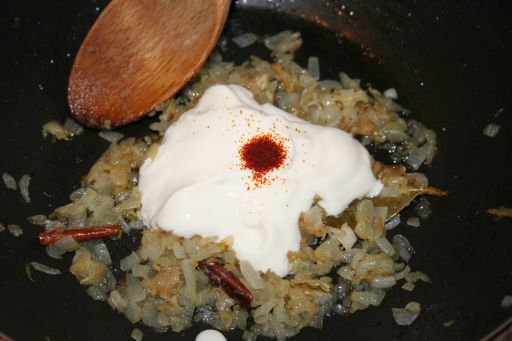 The Verdict
Saffron is crucial to the flavour of this dish and we can distinctively smell and taste it. It is creamy, nutty with the dominant parfum of saffron. The chicken pieces were very tender and tasty with the garam masala. Although there is no chilli in the recipe, we could feel a very light spiciness (that's the garam massala). I love the whole dish so much that I couldn't get enough of the chicken and its creamy sauce – definitely something I'll cook again!