Yesterday I woke up with a super craving for a sinfully rich chocolate cake – you know the type that definitely choke up your artery kind – moist and slightly gooey. Mmm 😁 So off I went browsing through my special chocolate cook books – there are so many to choose from but I fell in love with this one.
Rich & Moist Chocolate-Almond Cake
(taken from Le BA-ba du Chocolat)
Preparation: 20 minutes
Baking: 30 minutes
Serves: 8
Ingredients
200 g dark chocolate (minimum 60% cocoa)
5 eggs
150 g blanched almonds
200 g butter (cubed)
170 g sugar
½ tsp cinnamon
a pinch of salt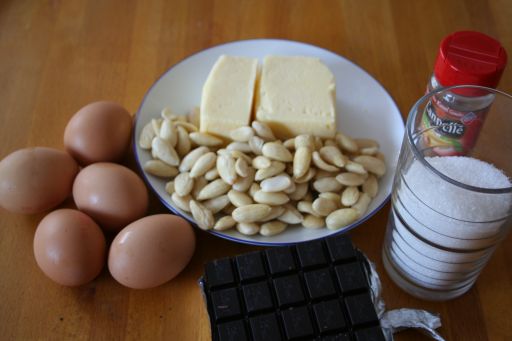 Directions
Preheat oven at 180°C (350°F – Gas mark 4).
Grease the baking pan (about 20 cm in diameter)
Roughly chop up the almonds (not too fine and not too big).
Brown the chopped almonds in a non-stick pan on low heat.
Melt the dark chocolate in bain-marie. As it starts to melt, stir it gently with a spatula. Once it is all melted and smooth, add in the cubed butter and stir gently till it is well mixed with the chocolate. Remove it from the heat.
Separate the yolk and the whites. Beat the egg yolks, sugar and cinnamon till creamy.
Blend in the chocolate butter mixture, then stir in the chopped almonds with a spatula.
Beat the egg white with a pinch of salt with an electric beater till stiff peaks form.
Delicately blend it into the chocolate mixture.
Pour the mixture into the greased pan and bake it for 30 minutes.
The Verdict
It's exactly what I craved for – rich, moist, sinfully chocolaty with crunchy almond bits.😁 I like it as it is but Pierre felt that it would taste better if it is left in the oven for another 3 minutes or so.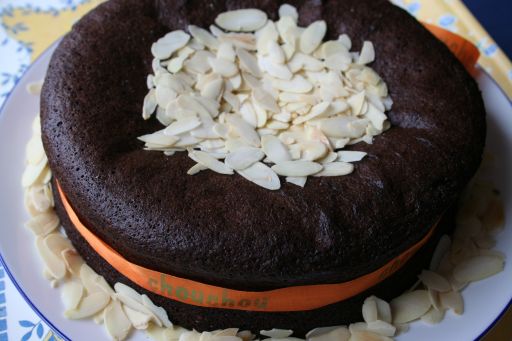 Notes
No blanched almonds in the cabinet? No problem.
Pour boiling water over the almonds and soak them for 1 minute. Drain and rinse them with cold water. Pat them dry. To remove the skin, just squeeze the almond between your index finger and thumb and the skin should just come off easily.