Haven't been feeling that well for the past few days, and I'm so not inspired to cook at all. However we were left with a packet of chicken in our fridge that needed to be cooked as it was expiring today. Pierre was craving for breaded chicken and I decided to spice up the usual way we do it. The result of this experiment is surprising good, while staying simple.
Aromatic Spicy Breaded Chicken
Ingredients
chicken breast
chili powder
1 egg (beaten with salt & pepper)
bread crumbs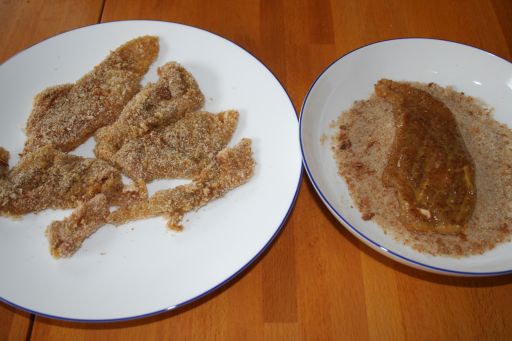 Directions
Cut the chicken breast into smaller pieces if necessary. Tenderize it with the back of your knife.
Season the pieces with salt. Mix the garam marsala with some chili powder (adjust the spiciness according to your liking) and coat the chicken with it.
Dip each piece with the beaten egg and coat it with the bread crumbs. Set it aside.
Heat the pan with oil till it is hot. Pan fry the chicken pieces till it is brown and drain it on paper towel.
Serve it warm.
The Verdict
The dish will obviously not win any cooking championship, but it's a quick and tasty way to prepare chicken. The addition of garam massala and chili gives a nice twist to the recipe.
Notes
Make your own bread crumbs by grating your old dried-out bread (well duh! but it is actually a lot better than the crumbs-in-a-box I've been buying before).