Though I'm under the weather, we decided to come to Paris so that little one can spend some time with her grandparents. Now everyone is sick except her. Upon touching the ground of Paris, I was graced with a sandpaper throat which escalated to an irritating cough that gives me sleepless nights. On top of that, I found myself voiceless the day after, and woke up at 3 am yesterday morning with a piercing stuffed nose. ☹️ It's kinda comic to discipline my 1 year old with a voice that goes on and off (well off most of the time). The road to recovery will be slow with this cold windy weather. ☹️
Yesterday was also the infamous strikes throughout France that crippled the public transport. Workers who don't own a vehicle and the poor tourists were and are still held hostage by this strike (today is the second day of the strike). The other big event of the day was the official divorce of the French President, N. Sarkozy and his first lady, Cecila. Well, this wasn't big news to the French since rumors have been showing up in the press for a while.
With my parents-in-law looking after little one, we decided to check out this restaurant, PDG, known to serve the best hamburger in Paris. With the transport being paralyzed, we had the option of going about town with one of those Vélib', a self-service bicycle rental network set up by the city of Paris in its effort to reduce pollution and motorcars in the city. Every 300 m, there are terminals and bike stands for you to station it – available 24 hours a day 7 days a week. A smart card allows you to pick up a bike, with the first 30 min being free. A pretty cool system to have in town when there is a strike. 😁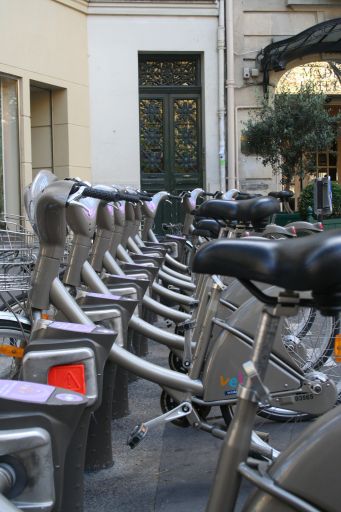 Then again I'm too chicken to ride on the road with those crazy Parisian drivers… so we opted for leg workout – took us slightly more than an hour to get there.
Upon reaching there, we were surprised to find a small 2 storey restaurant that serves brunch on weekends and also sometimes live jazz music. Although small, it is still nicely done without you feeling cramped inside – it has a nice ambiance and the service is great. They have a menu that offers interesting combination of burgers, club sandwiches etc…🙂 They even offer giant burgers with a 300 g patty for big eaters (common in US but very rare in Europe). 😲
I ordered my Swiss cheese that comes with spinach and curry sauce (interesting I thought) while Pierre ordered a Bacon cheese burger. The platter is rather generous and the food is indeed good. 🙂 Pierre loved his burger while I would have preferred the curry sauce to be more spicy and aromatic – guess I'm used to eat curry that takes your mouth by storm. 🙂 I don't know if their hamburger is the best in Paris but by far they are the best I had in Paris. 🙂