I love butter. When I was a kid, I used to spread a big chunk of butter on my white bread and savour every bite of it. The best spread is white bread with a thick coat of butter and sugar. Heck, I was even guilty of just eating a plain square of butter on it's own. Yummy… hahaha… well that was back then… now when I see a kid doing the same as I did back then, I cringe in horror – images of choked artery come to mind. Could it be that I have been over-exposed to health commercials aired on TV? 😛
Anyway it still doesn't stop me from indulging myself once in a while – old habits die hard. Sometimes I would sneak a big slap of butter on my bread with a little jam during breakfast – whenever Pierre isn't watching or else he would give me a long lecture on cholesterol and all. 😛 I remember once he caught me eating a slice of bread with butter coated with peanut butter on top with a horrified look on his face that goes 'Are you really going to finish that!' 😁
And of course without a doubt, my all time favourite cookies are butter cookies. My first taste of butter cookies were those Danish Butter Cookies (those famous blue round tin). It was a great treat when I was little as these cookies were imported and very expensive back then. It's funny how a great luxury back then has become a common treat today.
I have made these almond butter-cookies about a month ago after seeing a beautiful photo of it in a local monthly magazine but never got around to write about it.
Petits Sablés aux Amandes
Preparation: 20 minutes
Baking: 30 mins + 1 hour (refrigerator)
Makes: 30 (approximately)
Ingredients
250 g flour
2 eggs
50 ml liquid cream
120 g salted butter (soften)
120 g sugar
30 almonds
11 g baking powder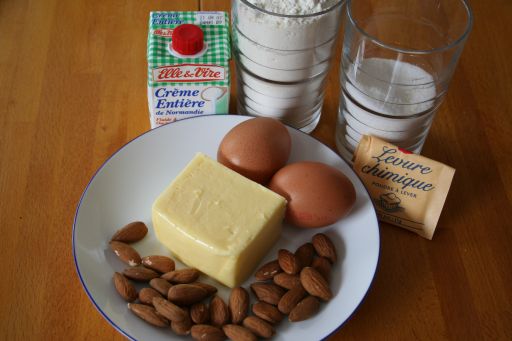 Directions
Mix flour and baking powder in a bowl.
Whisk eggs and sugar in a big bowl, add in the butter while whisking non-stop until it is creamy.
Add in the flour mixture and knead it with your fingers.
Form the dough into a ball and place it in a cool place for 2 hours or refrigerate it for 1 hour.
Preheat oven at 180°C (350°F- gas mark 4)
Flour your work table and roll out the dough to 1 cm thickness.
Cut them out into about 30 rectangles
Place half of the quantity onto the baking tray lined with baking paper.
Place an almond on top of each rectangles and brush the surface with liquid cream.
Bake them for 15 minutes.
Let the biscuits cool on the wire rack.
Cool off the baking tray under running water and then put the rest of the batch of rectangles in the oven.
These shortbread can be kept for 5 or 6 days in an airtight container.
The Verdict
Not as buttery as I was hoping, maybe because I was a bit too generous with the flour. Pierre thinks they are just nice, but would go for just an half-almond on top as a whole one for every cookie is a bit too much. Otherwise it goes nicely with our 5 o'clock cup of tea and stays fresh in a sealed container.
Notes
I must have over-whipped the egg and sugar (it was fluffy and creamy) before adding the butter because with the said amount of flour, I couldn't get it to form a dough. It was a sticky mess so I had to add more flour to get it to form a dough.