Phew! Finally we have an Internet connection in our house! They sure took their time. We could have had it a week earlier if not for the telecom company which made a (stupid) mistake in transferring the line.
Our move was a nightmare to begin with. On the eve of finalizing the sale of the house, we were busy loading up all our stuff onto the rental truck when we got a call from the notary that the seller couldn't make it the next day to finalize the papers. Mind you, we had our fridge, washing machine, sofas, bed etc. and were nearly done when we got that call. It's not like we are moving to the next street – we are talking about a painful 8 hour drive across the country. Since we had to return the truck the next day 500 km away, we decided to go ahead as planned and try to find a solution with the sellers.
Sadly, we were too optimistic and they were too unreasonable, and it took a lot of phone calls between the two notary and the real-estate agent to convince them to let us unload our stuff in the empty house and stay there till the sale got finalised 2 days later. Despite signing all required documents, they became highly bitter about the whole episode (even though they were the one who created this situation) and made the official transaction a painful ordeal of complains that lasted 2 hours.
I'm so glad everything is over and we got our house. Now we have a lot of work ahead of us but the major stuff have to wait till Christmas is over!
This is the first thing I baked when we installed our brand new oven. My oh my, this oven is fantastic. It warms up faster than my old one that I had a hard time leaving behind in our old apartment. I found this interesting cookie recipe from Beach Lover's Kitchen and modified it a wee bit to my liking.
Banana Chocolate Chips Cookies
Ingredients
115 g butter (soften)
2 & 1/2 cups plain flour (shifted)
1/2 tsp baking powder
1 over-ripened banana (mashed)
1/3 cup superfine sugar
1/3 cup dark brown sugar
1 egg lightly beaten
1/2 tsp vanilla extract
1/2 cup milk chocolate chips (can be replaced with dark chocolate chips)
some ground nutmeg
Directions
Preheat oven to 190°C (375 °F).
Beat the butter, superfine sugar and dark brown sugar until soft and fluffy.
Add in the beaten egg and whisked till combined.
Stir in the mashed banana and vanilla extract till well blended in.
Stir in the shifted flour and baking powder.
Add in the chocolate chips to the dough mixture.
Spaced out each spoonful of cookie dough on the baking sheet.
Bake it for about 15 minutes. Transfer to a wire rack and let it cool before storing it in an airtight container.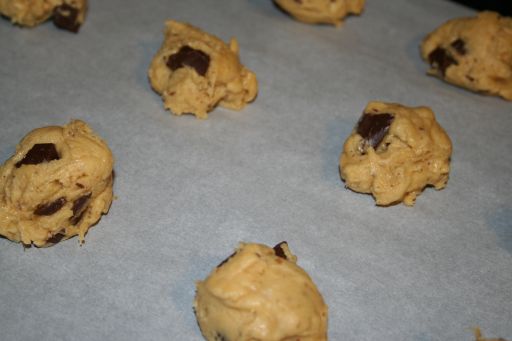 The Verdict
The banana flavor is somewhat surprising to find in a cookie form, and the texture is soft inside but solid on the outside. Overall a delicious treat I must say.🙂
Notes
A very over-ripened banana is needed to bring out the banana flavour of this cookie. My recipe isn't very sweet so it will appeal to people who aren't too much into cakes and desserts, but there's nothing stopping you from adding more sugar if you want so.