Thanks for all your well wishes. We are all back to our robust health, with a little bit less weight to boot. (whoohoo!)
This past week, we have been doing nothing else but packing, packing and more packing. We have sold off our home in Nantes to begin a new chapter of our life in another city. Little One has been very busy helping me packing the books, DVDs, clothes etc. She even helps to hold the box together for me to tape it. What a great little helper! 😉
Our Internet connection will be cut off this weekend and I won't be able post a new recipe until a week or two after. In the meantime, I leave you this delicious cookie recipe. 🙂
Triple Chocolate Sandwich Cookies with Peanut Butter Filling
Preparation: 15 minutes
Baking: 15 minutes
Makes: 36
Ingredients
120 g plain flour
120 g cocoa powder
1½ tsp baking powder
120 g dark chocolate
120 g milk chocolate (cut into 1 cm pieces or small pieces)
120 salted butter
300 g sugar
3 eggs (beaten)
Filling
150 g peanut butter
50 g powdered sugar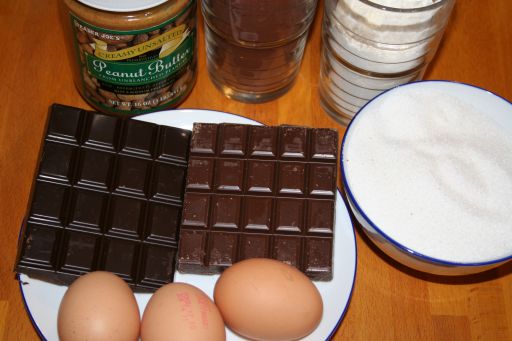 Directions
Preheat oven at 170°C (340°F)
Melt the dark chocolate with the butter in either microwave oven or bain-marie.
Let it cool down before adding the sugar, then stir in the eggs.
Add the flour, the baking powder and the cocoa powder.
Make sure the mixture is well mixed before adding in the milk chocolate.
Scoop a teaspoonful of the paste and roll it into a small ball between your palms. Flatten it slightly on the baking tray leaving about 5 cm between 2 cookies.
Bake it for 12 to 15 minutes. Let it cool on wire rack.
Peanut Butter Filling
Mix peanut butter and powdered sugar well together
Spread some peanut butter filling onto one side of the cookies and sandwich it with another cookie. Press it lightly so that the cookies stick.
Serve it with a cup of coffee or as dessert with a scoop of vanilla ice-cream.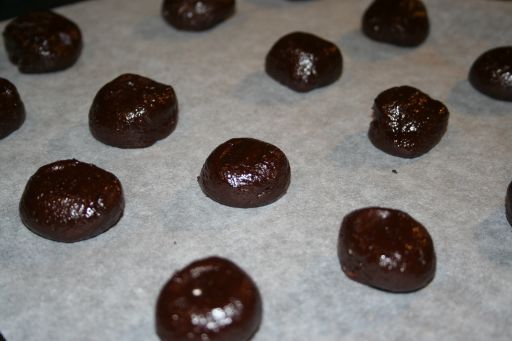 The Verdict
For all chocoholics and peanut butter addicts, this is THE cookie for you. It's a rich and sinful treat, a strong chocolate flavor that feels almost like biting a chocolate bar, with a soft peanut core. Yummy!
Notes
Be careful not to overcook them, or else they'll be too hard (although still delicious). 14 min was a bit too much for me, so you might want to keep a watchful eye on your creation.