HAPPY NEW YEAR !
GONG XI FA CAI !
Today is Chinese New Year. On the eve, every Chinese family come together to have a reunion dinner and this year we are home for our very first reunion dinner with my family and we are having steamboat as usual. At the stroke of midnight, there's the usual small blast of firecrackers in the streets: although they are illegal in Singapore (like so many other things!), some still managed to obtain some and set them off to welcome the new year. Firecrackers are supposed to scare off evil spirits and attract the god of wealth to people's doorsteps.
Today before we set off for our "new year visits" (visiting relatives and friends), we will first wish our parents a good new year with prosperity and good health with a pair of mandarin oranges, and we will get a red packet from them as usual. Since I'm no longer single, we will also be giving my parents a red packet this year. Little One will get her very first red packet from all my relatives.🙂 She won't know the significant of it yet but she will get it in 2 years' time.😉 For now, she would be more interested in checking all the goodies offered during this festive period and giving away her red packets.😁
Festivities are not over. The 7th day of Chinese New Year is known as 'Renri' (common man's birthday – everyone's birthday) – it is usually celebrated by tossing Yusheng' and make wishes for wealth and prosperity all year round. The 15th day – the last day of Chinese New Year – is celebrated by having a family reunion dinner again.
So I'm leaving my readers yet another simple dish to sample. Hope this will wet your appetite till I blog again.
Stir-fried prawns with shallots
Ingredients
Prawns (peeled & deveined)
Shallots (quatered)
Chillies (sliced)
light soya sauce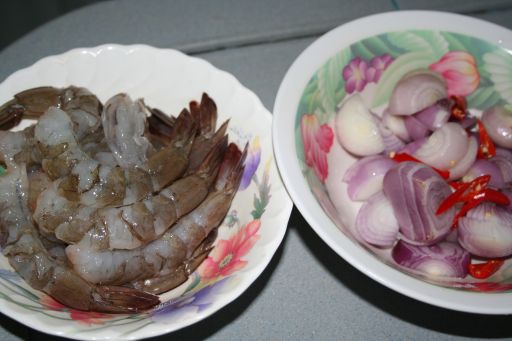 Directions
Heat some oil in a pan or wok until hot, sauté the shallots and chilies for one or two minutes.
Season it with a bit of light soya sauce, then stir in the prawns.
Sprinkle a pinch of sugar over the prawns. Sauté till prawns are cooked and adjust seasoning to your taste.
Serve hot with rice. Can be taken as main dish or part of the side dishes
The Verdict
I'm always surprised by how good this dish tastes – the nice aroma and crunchiness of the shallots mixed with the freshness of the prawns. The soya sauce and a dash of sugar heightens the taste and fragrance. This is succulent.