We got back to France 12 days ago and I find myself still adjusting to our daily routine and the weather. *sigh* Pierre and Little One don't seems to have any problem at all. Lucky them.
One of my goals when I came home for CNY (besides pigging out big time on local food, catching up with friends etc) is to watch my mom cooks all those delicious food and note them down so that I could redo them in France. Unfortunately my mom whipped up dishes faster than I could catch her doing it: one minute, the ingredients were all laid out on the kitchen counter, the next, they were all in the wok cooking … or worst … sometimes I didn't realised she had started cooking… until the delicious aroma floated to my nose … I rushed to the kitchen only to see the dishes all whipped up and laid on the table ready to be 'makan' (eaten). Maybe I should install a camera in the kitchen to spy on her cooking😁 Anyway I was lucky to catch my supermom in action cooking up this delicious yet simple dish of hers.
Pineapple is an excellent source of manganese, vitamin C and a good source of B1 & B6. Apparently the juice can also be used as a marinade and tenderizer for meat. Pineapple is actually composed of many flowers whose individual fruitlets fuse together around a central core and each fruitlet is identified as an 'eye'.
How to choose a pineapple?
Choose one that is firm, gold to brown skin, heavy for their size and has a fragrant sweet smell at the base. If the spiky leave gives way with a light tuck, it means it's nicely ripen. Avoid those with soft spots or bruised and darkened eyes – this means that the pineapple is past its prime. Avoid also pineapple that smells musty, sour or fermented.
This is my contribution to this Weekend Herb Blogging hosted by Kel from Green Olive Tree.
Pineapple Prawns
Ingredients
Prawns (peeled)
Pineapples (cut into small slices)
2 cloves garlic (minced)
Chili (seedless & chopped – option)
Light soya sauce
Sugar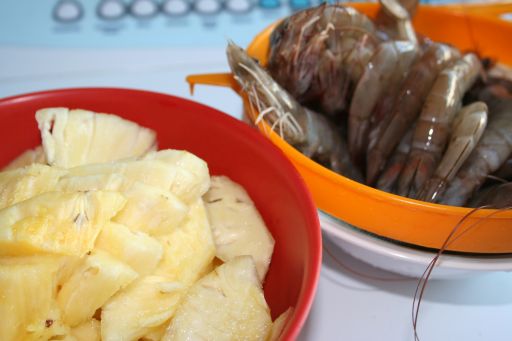 Directions
Heat up wok with a bit of oil until hot. Stir-fry the minced garlic with chopped chili till fragrant.
Add in the pineapple pieces and a bit of sugar. Stir-fry it for a few minutes or till the pineapples are almost cooked.
Stir in the prawns and season it with light soya sauce to your taste.
Serve hot with rice.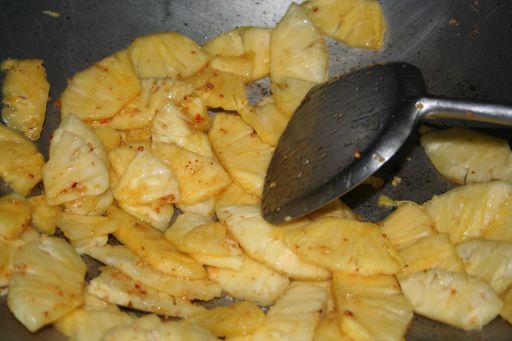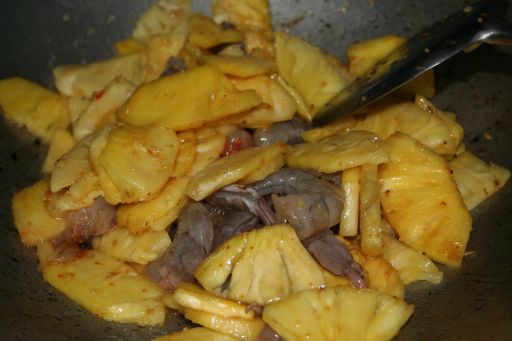 The Verdict
We know sweet and shrimp go well together and this dish proves it once again (and is an quick and tasty way to add some fruits to your diet). My mom tends to not salt the dish enough for western taste-buds, but it's easily fixed.
Notes
Instead of prawns, try it with squids. It tastes equally good.🙂