The weather has been acting weird for the past few days. We had weeks of very sunny spring weather and flowers were blooming everywhere, including the fruit trees in our backyard (we don't know what kind of fruit trees we have in our garden so that will be a surprise 🙂). Then suddenly end of last week, it started to rain for 2 days… and turned into snow…. gasp! Within half an hour, our garden was all covered with snow. The scenery was actually very pretty. Little One (LO) saw snow for her first time, and when the snow flakes hit her face and little hands, her expression was truly priceless😁… It was like 'hey…what was that?' with a serious frown on her little face. We went on the balcony and let her play with snow. Since she never had snow fight before, I decided to gather a little snow ball and threw it at her… Hahaha… She was like 'Mommy, why did you do that?' Sister-in-law joined in the fun and soon LO got the idea, however instead of her throwing her tiny snow ball at us, she threw it off the balcony. Hahaha Apparently she enjoyed watching it falling down and making a splatter on the floor. Too soon, it stopped snowing and the sun came shinning and melt all the snow.☹️
To chase away this cold weary weather, baking is the way to go : filling up the house with cookie aroma – mmm… yummy🙂 … this recipe is (heavily) inspired by my previous Choc-Hazelnut Scrolls.
Coconut-Choc Scrolls
Ingredients
234 g or 2 cups plain flour
50 g or ½ cup dry grated coconut
100 g butter (cubed)
½ cup caster sugar
1 egg (lightly beaten)
2 tbsp iced water
chocolate hazelnut spread
some extra dry grated coconut
Directions
Very lightly brown the 50 g grated coconut in a pan.
Place the grated coconut and flour in food processor bowl; add butter and sugar. Using the pulse action, press button for 30 seconds or until mixture is fine and crumbly.
Add egg and 2 tbsp water; process a further 20 seconds until mixture forms a dough.
Turn out onto a lightly floured surface and knead 30 seconds or until smooth.
Roll pastry out on a large sheet of baking paper, to a rectangle. Trim any uneven edges.
Spread dough evenly with hazelnut spread.
Sprinkle dry grated coconut all over the hazelnut spread.
Using paper to lift dough, roll up from the long side in Swiss roll style. Wrap tightly in paper and refrigerate for 1 hour.
Using a very sharp knife, cut dough into 1 cm slices. Place it on biscuit trays with baking paper.
Bake at 180°C (350°F – gas mark 4) for 15 minutes. Transfer to wire rack to cool.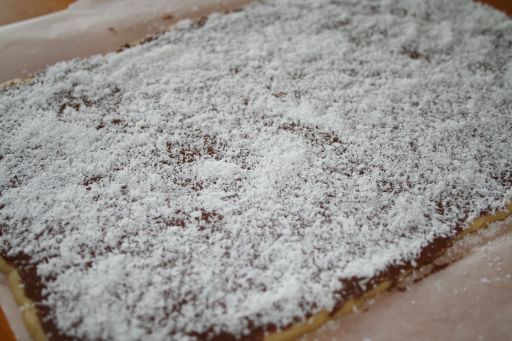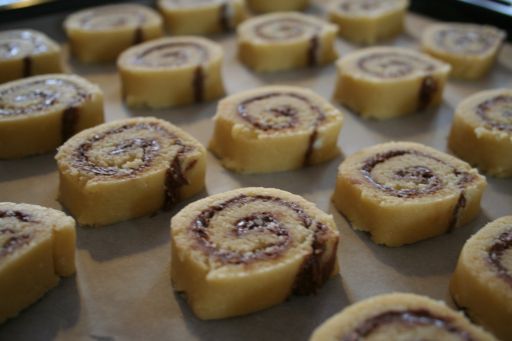 The Verdict
My sister-in-law took the first bite and exclaimed 'This is really good. Can I have the recipe please. Super yummy.' I was really taken by surprise and went : 'Really?' :O … Pierre took one and didn't say anything … he just chomped down another one, yet another. Little One was happily devouring hers. So I sank my teeth for my first bite… it is really good. Crunchy but not overly crunchy – a bit like shortbread. The coconut aroma just swamped my senses. I have to say the Nutella or any chocolate spread goes very well with coconut.