Sorry I haven't posted anything since 28/2. I just got so caught up in the daily affairs at home. My cool Sister in law came and stayed with us for a week or so before flying back to LA. We enjoyed her company so much that we were so sad to see her go, especially Little One who cried at the train station. A few days after that, I suffered a personal loss (as the saying goes, we never thought it would happen to us), then a few days later, I slipped and fell down the concrete stairs at home (earning myself a big bruise on my back and pigeon size bruises on my right arm). As if to prove that things happens in 3s, I got super lucky and caught stomach flu which lasted for days.☹️
As I was on the mend, Little One caught a virus at the day-care centre (I think). Poor thing (and also poor self) suffered 2 days of fever and the next morning, I gave her water and she cried and stuck her finger in her mouth: 'mommy, bobo. bobo.' (so cute right🙂 but so painful to watch her suffer like this). So I had a clingy and cranky baby for 2 days (I was about to pull out all my hairs). Stuck at home for a week as she was super contagious, she got a bit of luck with the doc who prescribed ice cream as medicine. Anyone wants her virus?😉 hmm…think I spoke too soon – I myself caught her super bug. This taught me something: don't eat some chili while having a really bad sore throat. Duh!
End of my complains and back to food. I would like to share this easy and delicious Thai dish that I have prepared for my sister in law with all of you.
Coriander Pork with Pineapples
(Taken from Thai Cooking)
Ingredients
400 g pork loin or fillet (cut into thin slices)
¼ medium pineapple (cut into bite size pieces)
1 tbsp oil
4 cloves garlic (chopped)
4 spring onions (chopped)
1 tbsp fish sauce
1 tbsp lime juice
½ cup fresh coriander leaves
¼ fresh mint (chopped)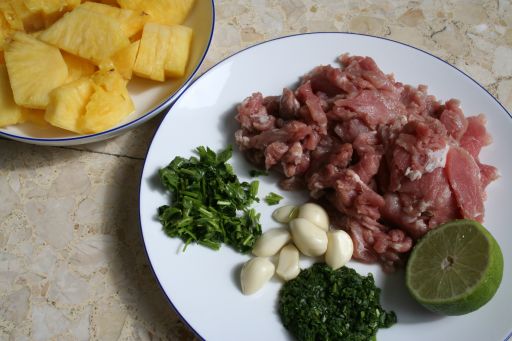 Directions
Heat the oil in a wok, add the chopped garlic and spring onions and stir-fry for 1 minute. Remove from wok.
Stir-fry the sliced pork in a very hot wok in 2 or 3 batches. Cook each batch for about 3 minutes or until the meat is just cooked.
Return all the meat in the wok together with the garlic and spring onions and add the pineapples, fish sauce and lime juice. Mix it well.
Sprinkle some coriander leaves and chopped mint on it and toss lightly just before serving.
Serve with rice.
The Verdict
This is a nice sweet dish, of course the pineapple dominates but the coriander and mint are what makes the whole thing interesting. My Sister-In-Law loves it very much and the dish was completely cleaned out before end of dinner.