4 months have passed since we moved into our new house and it's beginning to look more and more like home. Off with the old wallpaper (in most of the rooms, the wallpaper have been there for 4 decades!), a fresh coat of paint… voilà: it looks a whole lot prettier and modern. All this is possible due to relentless effort of my parents-in-law, without them, it would have taken us a lot longer to get the house looking like home. THANK YOU Michèle & Patrick for all that you have done for us.
Early this week we hosted a lovely Canadian couple who were here to visit Michèle & Patrick. With so many people around the house, it was la fête (a party) for Little One. Basked in the adoration limelight of everyone, she shines like a true star and charmed the Canadian couple (needless to say, the grandparents are already under her spell). Since this couple had been to Singapore before, I decided to cook curry – something local for them, my mom's Nonya Chicken Curry (who learned it from my grandma) – a Peranarakan Cuisine.🙂
Nyonya Chicken Curry
Ingredients
1 whole chicken (peel off most of the skin and chopped into pieces)
350 g shallots (approx.) or 1½ white onions
4 cloves garlic
6 or 7 stalks lemon grass (white part only – sliced)
1 or 2 pieces candle nuts
3 or 4 slices galangal (blue ginger)
1 thumb size ginger
3 or 4 tbsp meat curry powder or curry powder
1 cinnamon stick
4 green cardamoms
1 star anise (big)
3 cloves
a bunch of curry leaves (fresh or dried)
2 – 3 potatoes (cut into 4)
400 ml coconut milk
600 ml milk (approx.)
salt or light soya sauce for seasoning
oil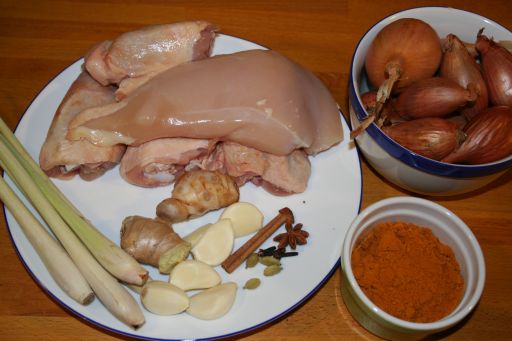 Directions
Put shallots, garlic, lemon grass, candle nuts, galangal & ginger in the food processor and grind it into a fine paste.
Mix the curry powder well into the paste.
Heat the wok with some oil till hot. Stir-fry the cinnamon stick, cardamons, star anise and cloves for a minute or so.
Stir in the paste and stir-fry it till fragrant.
Add in the chicken pieces. Stir and coat the chicken pieces with the curry paste.
Pour in the milk, coconut milk and curry leaves. Stir till blend with the chicken pieces and paste. (Add more milk if you feel the gravy is too thick or little.)
Add in the potatoes.
Season it with salt or light soya sauce to your liking and check the spiciness. If it is not spicy to your taste, add another spoonful of curry powder.
Bring it to a boil, then lower the fire to let it simmer for half an hour.
Serve it with rice or a loaf of French bread.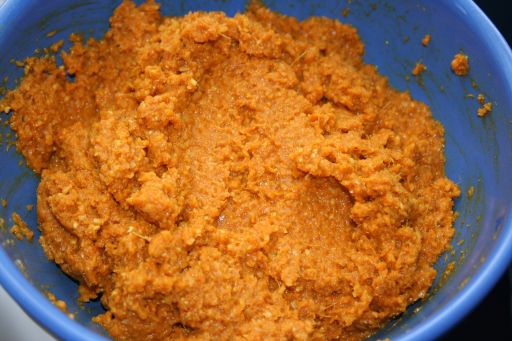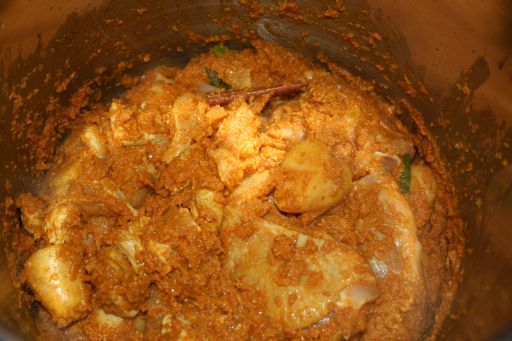 Conclusion
Mmm…yummy. It really DOES tastes like the curry I have back home, so I guess this is a success.🙂 I had prepared a tiramus for dessert, but it was a tough sell after everybody had gotten a second (and for some even third) portion of the curry.
Notes
If you can't find galangal (blue ginger) in your area, substitute it with another stalk of lemongrass. As for candle nuts, you can replace it with either raw cashew nuts or macadamia nuts or blanched almonds.