Little One has made an amazing progress in her vocabulary during these past few weeks. She still can't make out a phrase but she just learnt how to say her name the other day at the park (well, not exactly accurate but her name is kinda difficult for her to pronounce at her age). She can understand both languages – in French and English. I'm still working on Chinese as I seldom speak to her in Mandarin, however I take the occasion to compensate that by reading Chinese story books to her. Hope that works too.😉
She has also learned to shout A table (literal translation 'at the table' meaning 'dinner is served') whenever a meal is ready. And when papa is still not there yet, she would shout 'papa, à table!' 'papa, à table' till papa sit at his place. Hehehe She surprised us a month or two ago when she can associate which object around the house belongs to who – e.g. muffins- papa's, tool box – pépé (grandfather), which laptops belongs to who etc. She also has been playing tea party with her toys and feeding her teddies. Sometimes she would make a cup of tea (imaginary of course 😉) and serve it to each of us. Too cute for words. She also loves reading her books (well, mainly look at the pictures) and for bedtime, she will chose which books she wants us to read to her.
Oh … she has a new favourite word besides gateau (cakes): 'cartoon'. Now that the weather is warm enough to set up her baby pool in the backyard, she keeps asking for piscine (swimming pool) even at night.😁 Unfortunately she caught a chill. Thought it was just a normal runny nose and a slight fever which lasted for 4 days. Poor kiddo, her runny nose has caused her a right ear infection.☹️ With the medication, she is getting better however it is a real hide and seek when it's time for medicine – she would quickly either hide under the table or chair or behind the curtains and sometimes in the closet. Well, it is not always like this, sometimes she takes her medication bravely without resisting for she knows it to get rid of the 'little mouse' in her right ear.
Now back to food. It has been a while since I last baked something so I decided to try out this recipe that I have found in my cooking book but I did some modifications and tried two different methods of making it.
Orange-Coconut Cake
Ingredients
2 eggs
125 g butter (softened)
50 g dried shredded coconut
250 g sugar
180 g self raising flour
1 tbsp orange peel (grated)
250 ml milk
Coconut Icing
60 ml or more orange juice
½ tsp orange peel (grated)
90 g dried shredded coconut
140 g icing sugar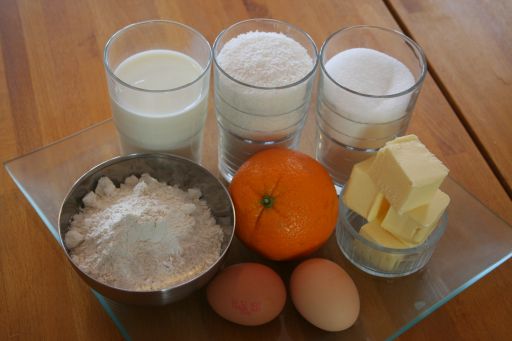 Directions
Preheat your oven at 180°C (350°F, gas mark 4) and prepare a greased round 20 cm diameter (approx) cake tin.
Method 1
Separate the egg white and egg yolk.
Beat the egg yolk, softened butter and sugar together in a big bowl till it is creamy and fluffy.
Stir in the grated orange peel and the shredded coconut and then add in the flour.
Pour in the milk and stir till combined.
Beat the egg white until stiff peaks formed. Fold it into the mixture till combined.
Bake it for about 60 minutes until the wooden stick comes out clean.
Leave it to cool for 10 minutes before turning it out on the wire rack.
Once the cake is of room temperature, spread the coconut icing on the cake.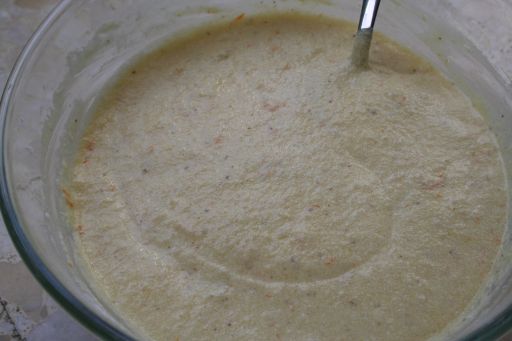 Method 2
Beat the eggs, butter and sugar in a big bowl till creamy and fluffy.
Add in the orange peel and grated coconut.
Stir in the flour and milk alternatively until combined.
Bake for about 45 minutes until the wooden stick comes out clean.
Follow step 7 & 8 in Method 1.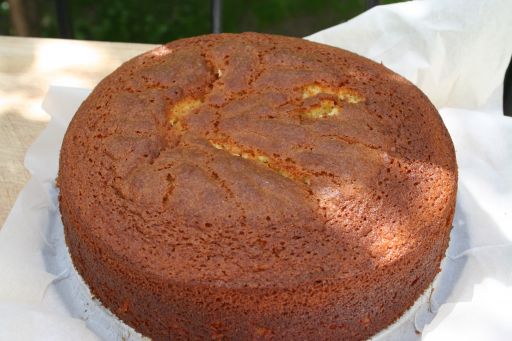 Coconut Icing
Mix the icing sugar and the grated coconut together in a bowl.
Add the grated orange peel and stir in the juice. (Add more juice if needed.)
Mix it to get a consistency but smooth enough to be able to spread it.
The Verdict
Method 1:
I find it to be light, moist and fluffy. The aroma of the orange, butter and coconut icing is a delicious combination. I was initially worried that the whole cake might turn out to be too sweet because of the icing but it tastes just nice – not overly sweet. I simply love it so did the rest of the family members.
Method 2:
The cake turned out to be light but dense and we can taste the bits of shredded coconut in the cake. It is equally delicious. Everyone likes both versions, however for me, I prefer the light and fluffy version above.
Notes
For method 1 : I would reduced the milk quantity a little bit.
To make your own self rising flour – for every 125 g of plain flour, add 2 tsp baking powder. Then sift the flour several times.