It has been quite a while since we have a weekend alone sans Little One. So when my parents-in-law offered to look after her, we took it up without any hesitation. Pierre was already planning which restaurants to check out, what to do in Paris etc while I was torn between being happy to have some couple-hood time alone at last and feeling like I have abandoned my little girl behind and worried about this and that (like a typical mother 😛). Pierre kept reassuring me that she would be fine and I should relax and enjoy this rare 'us' time alone but I was too stressed up. Needlessly to say, I hadn't slept well on the first night as I was too worried about how Little One was adapting with her grandparents and whether she was crying for us or not etc. Upon my insistence, Pierre called home the next day to check on her and was told that she passed a wonderful day out with her grandparents and enjoyed herself thoroughly and that she didn't asked for us once (to my surprise and a bit of a disappointment – Am I being selfish to want her to miss us just a little bit?). After the phone call, I thought 'tonight I can have a good night sleep.' ha! What a joke that was… We were woken up by the lady living upstairs at 4 am. As you know, many apartment in Paris have thin walls and floors so one can literally hear the neighbour next door or upstairs.
Anyway when Little One joined us finally a few days later, she didn't seems to miss us at all… I guess my little girl is growing up and no longer my little baby.🙂☹️ We brought her sightseeing Paris and checking out the restaurants… she loves wraps and club sandwiches just as Chinese dim sum. The 3,5 hour train ride home went uneventful, thank goodness. We were pretty worried that she might get bored and start to run around etc. At the end of the train ride, she made friend with a Maltese which growled at her in the beginning and she wasn't the least afraid of him. She insisted on patting and caressing him despite his hissing. *eyes rolling upwards* Then she decided to wander off from us even though I told her to stay put … she walked away confidently waving and saying 'au revoir mommy'… then started bawling her eyes out when a burly mustachio man smiled at her from his seat.😁 So much for her little adventure.
Today I would like to share with you a delicious muffin recipe that I made before I left for Paris.🙂 I call it Banana Muffin Surprise because you never know what you gonna get.😉 Hope you like it.
Banana Muffin Surprise
Ingredients
75 g butter (melted)
250 g self-raising flour
1 tsp baking powder
½ tsp bicarbonate of soda
½ tsp ground cinnamon
½ tsp ground nutmeg
115 g caster sugar
1 tsp vanilla extract
2 large ripe bananas or 3 medium size bananas (almost)
2 medium eggs
125 ml milk
some Nutella
some chopped dark chocolates
some chopped walnuts
some chopped white chocolates
pinch of salt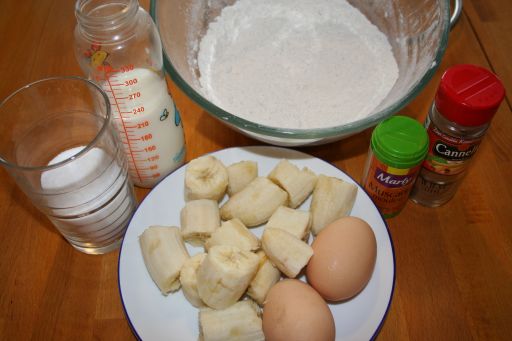 Directions
Preheat the oven to 190°C (375°F – Gas 5).
Melt the butter and allow to cool.
Mash the bananas well.
In a large bowl, sift flour, baking powder, salt, cinnamon and nutmeg together. Add caster sugar and stir though.
Beat the eggs with the fork for a minute before adding vanilla extract, melted butter and milk. Then add the mashed banana and stir till combined.
Make a well in the centre of the dry ingredients, add the banana-egg mixture, stirring roughly with a fork until it is a lumpy paste. Do not over-mix.
Place the paper cups into the moulds, or grease the moulds well with butter.
Fill some of the cups with the banana mixture till almost full cup while filling a few half way to the cup, drop a few chocolate chips or nuts and cover it with the mixture until almost full. As for the nutella, fill a few cups 3/4 way up and drop a teaspoon of Nutella into the centre of it and it will sink down naturally.
Bake for about 20 minutes or until the muffins come away from the side of the pan when touched.
Rest the muffin tray on a wire rack for five minutes then remove the muffins and leave on the rack for another five minutes before serving.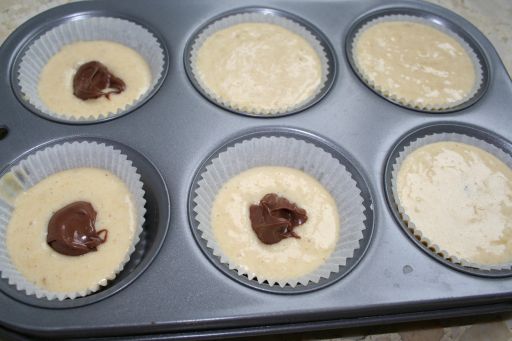 The Verdict
These muffins are very flavourful, light, moist and super delicious. Everyone started checking out the muffins at microscopic range after I told them that each muffin contains different stuff inside it…😁 of course everyone is battling over each other to get either the dark chocolates or Nutella ones … I tell you I have a bunch of chocoholics in my house.😁
My mother-in-law who was watching her lines couldn't help but ate 2 of them.😉 My father-in-law and Pierre were happily chomping down the muffins and see who gets the most chocolate ones out of the batch.😁
I thought we wouldn't be able to finish all of them and that I would have to freeze some of them. To my great surprise, they were so good that only 3 were left at the end of tea time.
I have made these again just last week and I have beaten all the wet ingredients together at one go with a fork – with this method, muffins are more compact but still moist, flavourful and delicious.
Notes
In all my baking, I use only salted butter (and I usually skip the salt part in the recipe). And I used 1½ tsp baking powder instead as I didn't have any bicarbonate of soda in my cupboard.