Happy Birthday Little One !
Today we celebrated Little One's special day… her big '2'… my little baby is now a big girl. Hehehe … she is still a little bit too young to understand what is a birthday all about but I think she is getting the idea more or less : delicious cake, blow-out candles and tearing those beautiful wrappers with surprises inside.😉
Her grand-mère dressed our little princess in her beautiful little red dress bought by her ma ma (maternal grandma) with cute little pigtails while we were busy putting up the decorations and getting everything ready before her grand entrance. However she caught us in the act.😛 She was more attracted to the balloons on the ceiling than all the deco that we have put up for her like rose petals (compliments from our garden) sprinkled all over the table and the colourful garlands hanging from the wall to the ceiling. Then she saw those lovely petals and climbed on top of the table and started dancing.😁 Looks like a star is born.😉 This year she is quite spoiled on her birthday: a swing, a sandbox, 4 DVDs (all her favourite characters), a set of kitchen utensils (toy version of course), a set of mini cars (she loves cars like her dad), aquadoodle, a dress, a CD player and a Lego set. Oh… she went to visit her great great aunt this afternoon and they celebrated her birthday there again… she gets to eat more cakes and got another present. Shh… more presents are on the way from Singapore – she doesn't know that yet.😉
Originally I wanted to make a chocolate Teddy bear cake for her on her birthday but I had to scrap that plan as I have never done anything like this before and it was not the right the time to do an experiment.😛 In the end, I made a simple chocolate cake and decorated it the best I can.
The chocolate cake recipe that I'm sharing with you today is one that I found on the Internet a few years back and it has since been a favourite in our family.🙂 For this special day, I made this cake with chocolate icing.
Chocolate Cake with Chocolate Icing
Ingredients
2 medium eggs
1½ cups sugar
1½ tsp vanilla extract
1½ tsp baking powder
¼ salt
4 tbsp cocoa powder (non sweetened)
¾ cup of milk
113g butter (melted)
¾ cup flour
Chocolate Icing
1½ cups icing sugar
2 tbsp cocoa powder
1 tsp butter (softened)
2 or 3 squares dark chocolate (made for dessert)
¼ cup hot water
Directions
Preheat the oven at 175°C (350°C – gas mark 4) and butter a round 20 cm diameter cake pan.
In a big bowl, beat the eggs and sugar together until it is light and fluffy.
Stir in the vanilla extract, baking powder and salt.
Add in the cocoa slowly.
Then the milk and the cooled down melted butter.
Stir in the flour.
Pour the batter into the cake pan and bake in the oven for about 40 – 45 minutes. When inserted into the cake, the toothpick should not come out completely clean. The cake is supposed to be a bit moist.
Let the cake cool for about 10 minutes before turning it out on the wire rack to cool completely.
Pour or spread the cooled chocolate icing on the cake and decorate it as the way you wanted it. Refrigerate it for a while so that the icing gets set nicely.
Chocolate Icing
Sift the icing sugar, cocoa powder and the dark chocolate pieces into a bowl.
Add butter and hot water and beat with a wooden spoon until smooth.
If the chocolate pieces do not melt, microwave them for a few seconds.
Let it cool to the consistency you want and then spread it on the cake.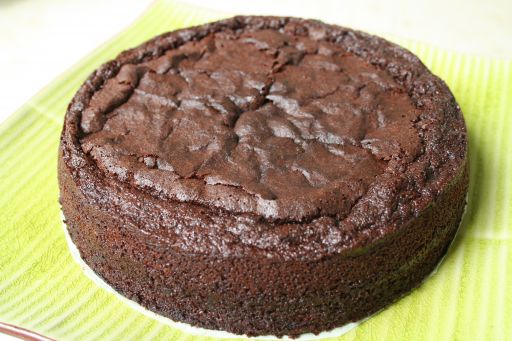 Conclusion
No matter how many times I bake this chocolate cake, it always comes out perfect and delicious. However this is the first time I decided to put icing on it. Initially I thought a chocolate icing with a moist chocolate cake would be a bit too much… mais non… It's luscious – rich, moist and filling. And it wasn't too sweet either.🙂 Little One couldn't wait and was already helping herself with a teaspoon on the cake before we could even take a pic of the cake or even put the candle. While we were cutting the cake, she was busy scooping and eating the chocolate icing on the side. She loves it so much that she was tucking in her cake and at the same time scooping the icing off the cake.😁 Everyone loved it.
Notes
Cake : If you bake it on a 9″ round cake pan, bake it at the same temperature but the cake will be done about 30 to 35 minutes. The cake is delicious on its own without icing. Alternatively you can serve the plain chocolate cake with crème anglaise (light custard sauce) or a scoop of vanilla ice cream or sprinkle some icing sugar on top.
Chocolate Icing : The original icing recipe was a bit too liquid to my taste so I added a few dark chocolate tablets to get a thicker consistency. I have modified the above recipe accordingly. I have also used less icing sugar than what was stated above. I poured the icing on the cake when it had thickened to be just fluid enough.