Yesterday afternoon I learned from my cousin that my 2nd auntie had been admitted to the hospital in serious condition. I was quite saddened by the news and was hoping and praying that she would somehow pull through this for I looked forward to seeing her again during next Chinese New Year and also for my Little One to get to know her. Today I was shocked to learn that she has passed away at 3am this morning at age 77.☹️ Although I did not know my aunt very well, I have very fond memories of her. As she aged, she looked like a carbon copy of my grandmother.🙂 I'm so glad I got to see her during last Chinese New Year and was able to introduce to her my daughter. You see, I hadn't been back in Singapore for CNY since 2001 as all the CNY dates falls during school term. I shall miss visiting her next year.☹️
Back to the kitchen. I had 3 very ripe bananas sitting on my kitchen counter for some time and decided to turn them into either cakes or muffins till I came across this delicious recipe from fellow blogger Little Corner of Mine yesterday who got the original recipe from Amanda. I have modified the version slightly to add some spices and increase the quantity. Steaming pastries, rather than baking them in a oven, is somewhat uncommon, but it's regularly done in Asia.
Steam Banana Muffins
Ingredients
3 very ripe medium-size bananas (mashed)
3 eggs
150 g sugar (white or brown or a mixed of both)
225 g self raising flour
¼ tsp baking powder (approx.)
112 ml vegetable oil like sunflower or canola
2 dashes cinnamon and nutmeg powder
a bit of vanilla essence
Directions
Sift flour, baking powder, cinnamon and nutmeg together.
Whisk the eggs, sugar and vanilla essence until it is creamy and fluffy.
Mix in the mashed banana until it is combined.
Gently fold in the sifted flour mixture and then fold in the oil until combined.
Pour the batter into the muffin pan lined with muffin cups.
Steam over high heat for 15 minutes or till an inserted skewer comes out clean.
Serve it warm or room temperature.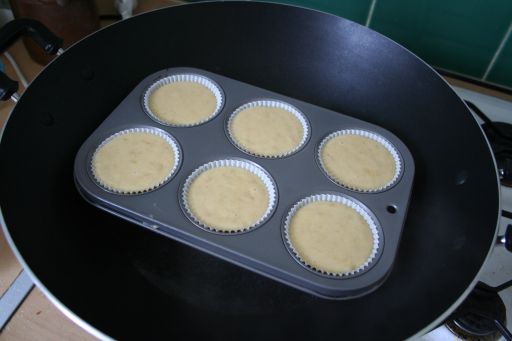 The Verdict
It is truly delicious – flavourful, dense yet light, soft, fluffy and moist. The muffins look very much like Chinese steam cake or kueh but who cares if it doesn't look as good as the baked ones ! It's the taste that matters the most, right.😉
Frankly I love both versions – be it steamed or baked. But I have to say that the steamed version does taste slightly different than those baked ones. In what sense, I don't know.
Store the rest of the muffins in the fridge and heat them in a steamer for a couple of minutes before serving.
Notes
Some readers in Amanda's blog have replaced oil with butter and they said the results are equally delicious. But probably not as healthy.