I just took a 4 days break visiting my best friend in Germany alone.🙂 It was a great break but I couldn't help missing my significant other and Little One every day. We left Little One with her grandparents for a week so that we get a nice 1 week break. We sound cruel, don't we ? She has recently entered into her terrible 'TWO' … it's funny how my sweet little girl suddenly turns into Little Imp right after she hits 2. Someone told me that this will last till she's 18. I sincerely hope not!
This is our first summer in Clermont-Ferrand. So far I love the weather here – it doesn't rain as much as Nantes and less humid. With summer, we discovered what we have in the garden – a cherry tree, some wild strawberries in our front yard, 6 different type of prunes trees, some blackcurrant, redcurrant and gooseberry, and some wild black berries overgrowing from our neighbour's garden. This autumn we will be going back to Singapore, so we will not be doing any mushroom picking.☹️
Before I left for Germany, I made a very simple cake called 'Yogurt Cake' – the very first cake that every French kid learns how to make.🙂 What makes this recipe so easy to do is the measurements of the ingredients are done using the yogurt cup or bottle (in France, the standard yogurt bottle is 125 ml). This time I decided to add a hint of originality by adding pandan flavour.🙂
Pandan Yogurt Cake
Ingredients
3 eggs
2 tubs or 250 ml plain natural yogurt
2 yogurt tubs or 200g sugar (a mix of brown and white)
80 ml or slightly less than 1 yogurt tub vegetable oil like sunflower or canola
4 yogurt tubs or 2 cups plain flour
2 tsp baking powder
1 tsp Pandan essence or extract

1 teaspoon pure vanilla paste/extract
Directions
Preheat the oven to 180°C (350°F – gas mark 4)
Lined the bottom of a 9″ round cake pan with baking paper and butter the sides.
In a large mixing bowl, gently whisk the yogurt, eggs, sugar and pandan essence together until combined.
Add in the sift flour and baking powder and stir until combined.
Pour in the oil and whisk gently until it blend together.
Pour the batter into the prepared cake pan and bake it for 30 to 35 minutes until the top is golden brown and the toothpick comes out clean.
Let it cool for ten minutes before transfer it onto a rack to cool completely.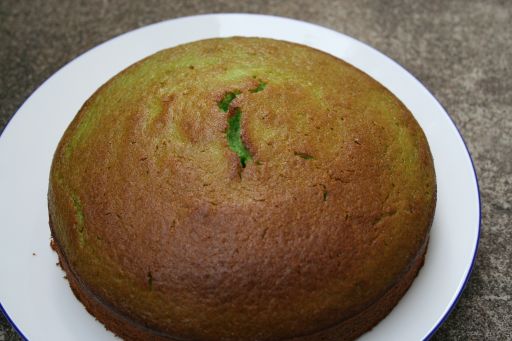 The Verdict
I was surprised by how moist the cake turned out to be. It is dense yet fluffy (if that's how to describe it) and full of flavour. It's hard to stop at just one slice. The cake keeps well for a few days wrapped in a foil (to keep it moist) and the flavour develops with each day.
Notes
You can also bake this cake with fruit flavoured yogurt instead of plain ones.
What I like love about this cake is that one can replace the flavour with another without a problem and the cake still turns out as delicious. So we never get tired of it and can experiment with different flavours.
The next time I bake this, I'm going to try it with coconut or orange or orange-flower or even green tea.🙂 The combination is endless. I'm getting giddy just thinking about it.