What a summer we had this year!😁
Lucky for us, it wasn't too hot in Clermont-Ferrand but down South of France like Oraison or Montpellier where we spent 2 weeks, we felt like we were being baked. We could only go out in the morning from 8 am to 10.30 am. After that, the temperature started going up to 31°C or 33°C. By noon, all of us were already withering from the heat. We were so glad to head back to the house for a siesta before going out again at 4.30 pm. Even at 4.30 pm, the heat was quite unbearable. We went for lots of walks around the town, nearby villages, to the lakes and the seaside. By the way, the drive from Clermont-Ferrand to Montpellier is extremely scenic (I wish I had my video cam) and best of all, the highway is 'FREE' (very rare in France).
Since Monday, we are busy preparing everything for our kitchen to be redone, before we leave for Singapore tomorrow. Yep, we are leaving tomorrow and our luggage aren't even packed yet. Up till this morning, we were still out shopping for our kitchen table top. Talk about stress. Do we really need to do this to ourselves before we leave tomorrow? No, but what choice do we have – the guy who is going to redo our kitchen suddenly called us up 2 weeks ago saying that he can do our kitchen in mid September. We were overjoyed of course given the fact that in France, everything moves so slow especially in the renovation business – the craftsman are hard to get. If we missed this chance, we might have to wait for another 6 months before he could fix our kitchen. Everything is done in such a mad rush. I also learned from my significant other that we had to assemble the kitchen cabinet for the guy to put it in place etc, and that we also have to dismantle our present cabinet ourselves. There I was thinking that the quote the guy gave us included everything like it does in Singapore. Well, guess that's another culture shock for me. Pierre said 'Sure, everything can be done, one just need to pay for it and the price is an exorbitant one !☹️ In France, manual labour is very expensive, that is why everyone tries to renovate their house themselves or with the help of connections and relatives.
I have to thank my parents-in-law for helping us and guiding us in buying all the necessary stuff and my sister-in-law for house sitting for us. THANK YOU!
Before departing for Singapore, I would like to leave you a great cookie recipe that is simple and easy to make. It doesn't take very long to whip it up and bake as well.
Chocolate-Nut Cookies
Ingredients
1 egg yolk
38 g or 1/4 cup soft brown sugar
74 g or 1/3 cup white sugar
150 g butter (softened)
1 tsp vanilla essence
188 g or 1 1/2 cup self raising flour (sifted)
100 g dark and white chocolates tablets (chopped)
some chopped walnuts
Directions
Preheat oven at 180°C (350°F – gas mark 4).
In a big mixing bowl, whisk egg yolk, white & brown sugar, butter and vanilla essence together until it is light and creamy.
With a spoon (metal or wooden), fold in the flour, dark & white chocolates and chopped nuts into the creamy mixture until combined/
Take a spoonful of the dough and roll it into a ball in your hands.
Arrange the balls on the baking tray lined with baking paper. Make sure to space them out as they will spread during baking.
Bake them for 15 minutes or until crisp and lightly browned. Cool the cookies on tray for a minute or two before transferring them on the wire rack.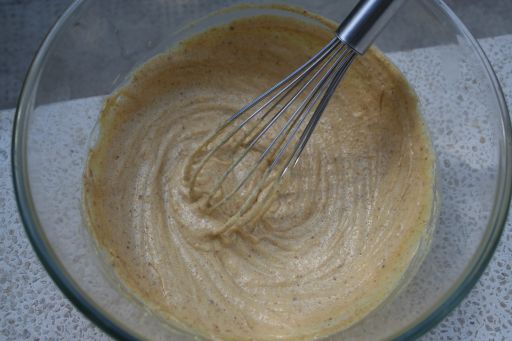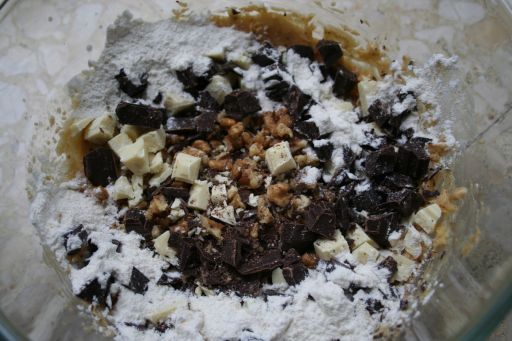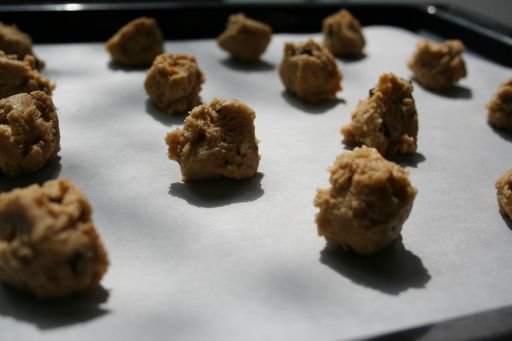 The Verdict
Surprisingly delicious and aromatic – it has a full nutty flavour, buttery taste, with delicious bites of mixed chocolates and not forgetting the presence of vanilla flavour as well – wow! Pierre and Little One couldn't stop eating them. In fact, they are fighting over who gets the biggest first. My friends said it is as good as Famous Amos cookies and that I should bake more and sell them from home.😁
Before this, I never quite succeeded in making chocolate chip cookies but this time around, they came out beautifully and delicious. I'm so happy.
Notes
The baking time depends on how hot is your oven. For mine, I discovered that my oven browns them pretty fast and I only baked them for 12 to 13 minutes. The more batches I made, the hotter my oven turns so either I lower my oven temperature or shorten the baking time.
As for the combination, leave it all dark or white chocolates if you like. Try different nuts or add raisins.