Merry Christmas Everyone ! Hope Santa brought you lots of presents.🙂
Winter for me is a sort of a love/hate thing. It means long cold cold days with sun rising only at 8 am and darkness already falling at 5 pm.☹️ Even after 7 years living in Europe, I still cannot get used this short daylight time. I dearly miss waking up with warm sunlight caressing my face in the morning – it's so delightful. The other thing I don't like about winter is the freezing cold – even with the right clothing, I can't go for a walk without my nose, cheeks and hands being frozen after a while. That alone is enough to put me off from going out and make me want to stand by the window with a warm cup of tea.
Other than that, I love winter because it means Christmas is around the corner and that gets me all excited like a little girl again. I don't know about you but for me, Christmas always evoke that magical joyful effects & spirit in me. I love seeing children's innocent eyes widen in delightful awe and wonder of this magical world of Santa Claus – not forgetting that famous line used by all parents (including me) that kids have to be good or else Santa won't bring you any presents.😉
Now the other wonderful thing about winter is FOOD – delicious sinful comfort food. We not only indulge during this period – we seriously convince ourselves that we need all this food to keep ourselves going during those cold winter days.😛 One of those delightful food I'm going to present to you is called fondue (Cheese Fondue). It is mainly made up of 3 different type of cheese, a base blend cheese like emmental or gruyère (large quantity) and 2 more strongly flavoured cheese like comté or appenzeller, bathed in dry white wine in a earthenware pot called "caquelon" till the cheese melted. Spear a piece of hard stale bread with a fondue fork and dip into the cheese fondue. Mmm… super yummy – Something so simple yet so nourishing and fun to eat.
Cheese Fondue
(Michèle's recipe)
Ingredients
150 g Appenzeller
350 g Old Comté (cut into pieces)
350 g Gruyère (cut into pieces)
3/4 bottle dry white wine
a small glass Kirsch (eau de vie de cerise)
old dry bread (cut into pieces)
garlic
a dash of pepper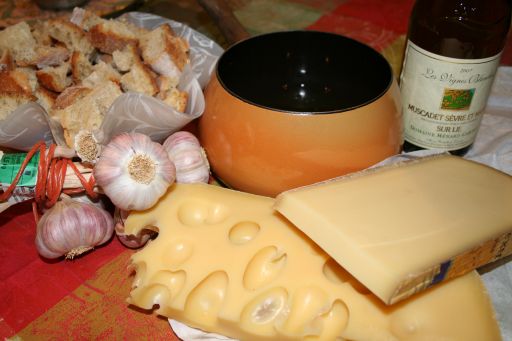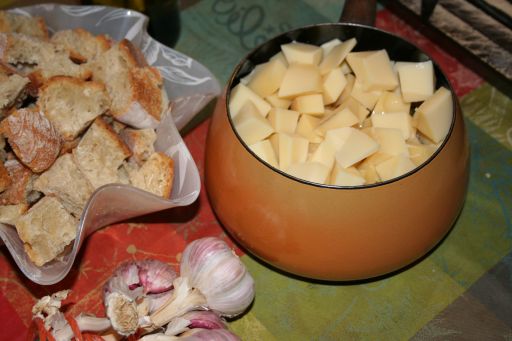 Direction
Rub garlic all over the interior of the earthenware pot (caquelon).
Cut all the cheese up into cubes and put them into the pot.
Pour 3/4 of a bottle of dry white wine, kirsch into the pot. Season it with a dash of pepper.
Cook the pot of cheese/wine over medium fire, constantly stirring it with a wooden spoon till the cheese melted and the mixture becomes homogeneous.
Take the pot off the fire and continue to keep it hot on top of a small burner on the table.
The fondue is now ready.
Speared the hard old bread with the fondue fork and start dipping it right at the bottom of the fondue to get the cheese. Be sure not to loose your bread or you will have a fun time fishing for it.😛
Sit back, relax and enjoy this hearty meal with a glass of white wine with your family and friends.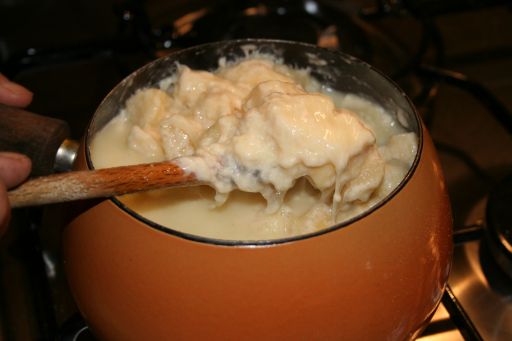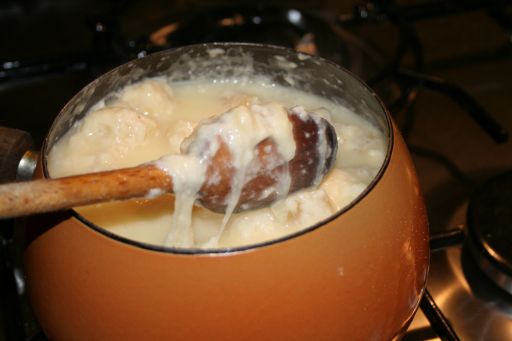 The Verdict
Hmm… how else can I describe the taste … it simply tastes cheesy of course.😛 I love the combination of the 3 different type of cheese together marinated and melted in white wine … heavenly. It's quite addictive too.
The thing about fondue is that it needs 2 other strong cheeses to give that nice strong flavour. However, if you can only find 1 strong flavoured cheese, it will do also. Necessity makes law I guess.
Notes
Some add a bit of corn flour into the cheese fondue to thicken the mixture but we prefer sans it. If you don't have the above cheese, you can use emmental (the base) and 1 or 2 other stronger cheese like old cheddar cheese or beaufort.
Nowadays, one has a choice between owning a traditional caquelon (warmed by flame using liquid fuel) or an electrical fondue pot. With a powerful electrical one that goes up to 1000 watts, one can make the fondue directly in the pot instead of over a stove and then transferring it onto a stand over a burner.