Last Christmas Little One was a little too young to understand all the fuss about Christmas. Now that she is a little older, she is more curious about it – she even helped me set up and decorate our Christmas tree. My sister-in-law not only taught her to sing 'Petit Papa Nöel' a week before xmas (she has been singing this song non stop since then 😛), she also talked to her about Papa Nöel (Santa Claus) and how she has to be a good little girl or else Papa Nöel won't bring lots of gifts for her. Mémé (grandmother), bless her sweet heart, bought a Santa suit and got someone to give Little One a surprise visit on the eve of xmas.🙂 Little One took a look at Santa and ran hide behind mémé's legs and refused to look at Santa no matter how much coaxing from him or mémé. It was only when he took out a present from his bulging Santa sack that Little One started to warm up to him and even gave him a kiss on his cheeks for the present. After Santa left, she couldn't stop talking about Santa.🙂
No festive holiday is complete without cookies, especially when Santa is expecting some, so here's the cookies that I did bake for this occasion.
I'm contributing this recipe to "Cookie Baking Event" hosted by Sharmi of Neivedyam.
Coconut Chocolate Nut Cookies
Ingredients
1 egg yolk
112 g white or brown sugar
150 g butter (softened)
1 tsp pandan essence
1 cup self raising flour (sifted)
½ cup dried grated coconut
some dark chocolates tablets (chopped)
some chopped walnuts
Directions
Preheat oven at 180°C (350°F – gas mark 4).
In a big mixing bowl, whisk egg yolk, sugar, butter and pandan essence together until it is light and creamy.
With a spoon (metal or wooden), fold in the flour, dark chocolates and chopped nuts into the creamy mixture until combined.
Using 2 teaspoon, scoop a very small portion of dough and drop the ball onto the baking tray lined with baking paper, making sure to space them out as they will spread during baking.
Bake them for 13 – 14 minutes or until crisp and lightly browned. Cool the cookies on tray for a minute or two before transferring them on the wire rack.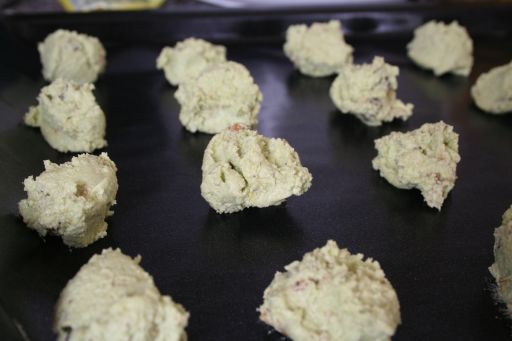 The Verdict
It turned out pretty good – very aromatic and crunchy but a wee bit too sweet to our taste.🙂 – I love the combination of the coconut and pandan flavour with those bits of dark chocolates and nuts.
Notes
For those who like their cookies just nice and not too sweet, please reduce the sugar quantity from the recipe.