My hubby has always been a big lover of Indian cuisine – so much so that whenever we are back in Singapore, the very first restaurant he heads for is Shahi Maharani. We eat there so frequently that even the manager recognises us instantly whenever we are back in Singapore, never mind that he hasn't seen us for over a year. 😛
Since we haven't been back to Singapore for almost a year and I haven't been cooking any Indian food for a long long time, he needed to satiate his cravings, and I gave in after a few days of bugging. Flipping through our favourite Indian cook book, of course, he had to pick THE dish that has an ingredient that not only I had no idea what it was nor where to find it: madras masala paste. The book did not say how to make it or what it's supposed to be like ☹️. The Internet came to the rescue, and once I got the paste made it was now time to do this Beef Madras, which according to the book is a popular South Indian curry prepared mainly by Muslims.
Beef Madras
Ingredients
4 tbsp vegetable oil
1 large onions (finely sliced)
4 cloves
4 green cardamon pods
2 whole star anise
4 fresh green chilies (chopped
2 red chilies (fresh or dried, chopped)
3 tbsp Madras masala paste
1 tsp turmeric
450 g lean beef (cubed)
4 tbsp tamarind juice
salt & sugar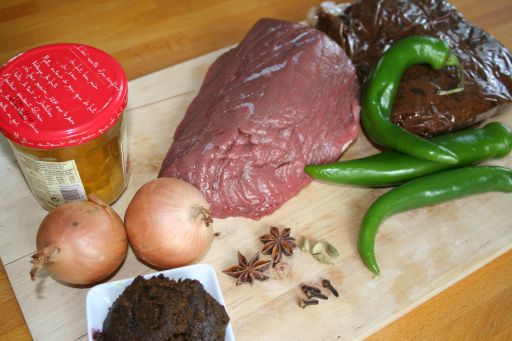 Directions
Heat oil in a wok and fry the sliced onions until golden brown.
Lower heat, add in the spices & paste and fry for a few minutes.
Add in the cubed beef and mix well. Cover and let it cook on low heat for about 2 1/2 hours or until beef is tender.
Once beef is tender, remove lid and cook uncovered on high heat for a few minutes to reduce any excess liquid.
Stir in the tamarind juice, season it with salt and sugar according to your taste.
Serve it hot with rice.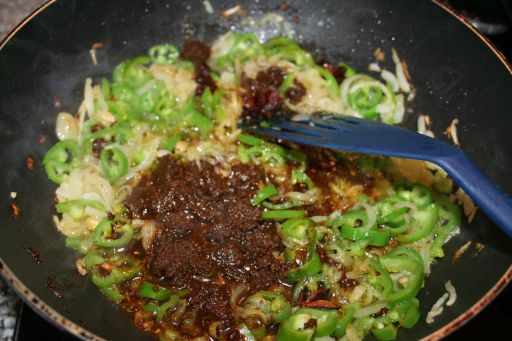 The Verdict
It's very aromatic, delicious, tender and super spicy. I personally couldn't take the heat of this dish even though I was wise enough to put only 2 green chilies minus the red ones. Hubby loves it so much that he didn't even care if his taste buds were on fire. He had 2nd and 3rd helpings. I salute him for his bravery – not bad for a ang mo (a Singapore local word for 'Caucasian').
This dish taste even better the next day. 🙂
Notes
I realised when preparing this dish the 3rd time that how spicy this dish is depending on how spicy is your Madras Masala paste. If you reduced the spiciness in your paste, then you can add more fresh chilies (1 green & 1 red) or whatever combination you prefer. However if your paste is very spicy like mine (when I first did it), reduce the amount of paste added to the dish or simply leave the fresh chilies out.